Just in case you were wondering what Antifa is up to- here is a picture of them in Denton, TX, where the Antifa insurgents were providing armed protection for a drag show performance aimed at children. Note that the police and Antifa were working together at this event. At this point, residents of Denton, TX can assume that local LE are allied with Antifa. For this reason, Denton (a suburb on the NW side of Dallas) is now added to Zone 2.
The guy on the right is carrying an AR made from an 80 percent lower. His kit is rather sparse. No TQ, no FA kit, nothing but weapon, some ammo, and a radio. In fact, both of them look light on ammo. Less than 100 rounds tells me that they are there more for photo ops on social media and intimidation than they are for fighting, but then again, no one has really offered any fight, so I guess that doesn't matter. I would also take careful notice that the guy on the right is wearing a body camera. So is the one behind him (mostly hidden by the Fag Flag) you can see the camera between the rainbow flag and the red one.
Looks like both have plates, but they don't have helmets or pelvic coverage. I bet 62 grains moving at a couple of thousand feet per second through their pelvis would make them combat ineffective.
The idiot dressed like a cat is in the way of me getting a good look at the guy on the left, so we need to take a look at a different photo to see his kit a bit better.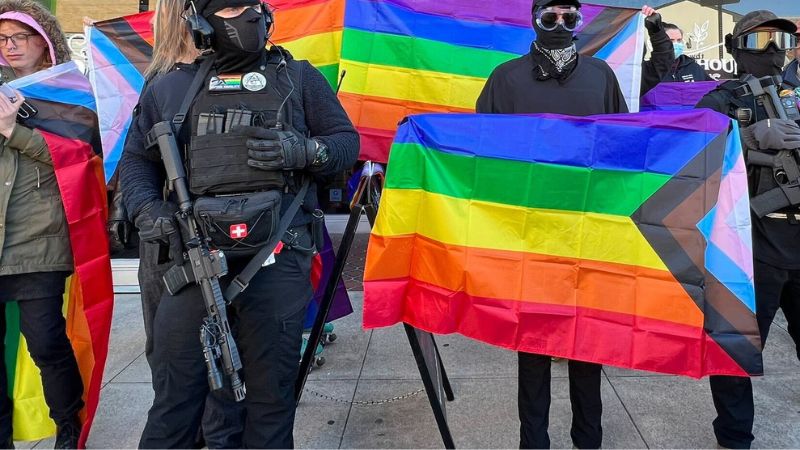 Taking a look at his AR, it looks like an 80 percent lower as well. That bag marked as a FA kit doesn't look large enough to be serious.
The third guy I want to take a look at may or may not be a skinny chick (on the left).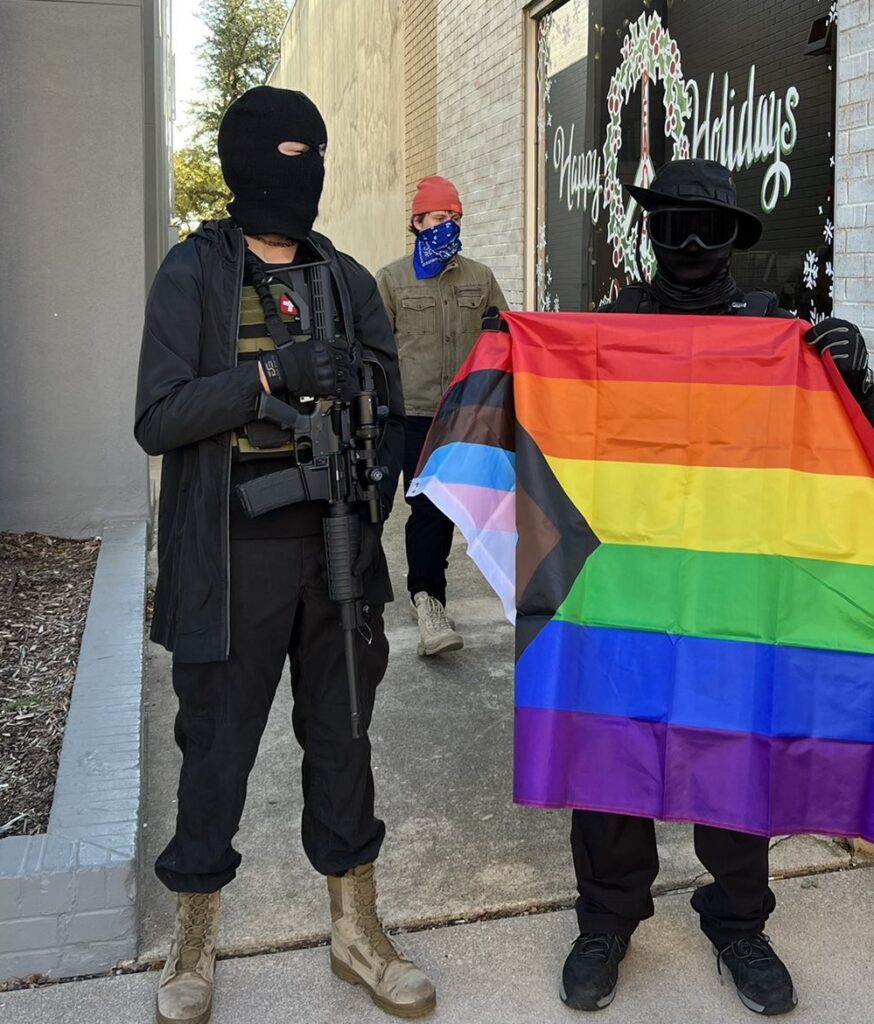 A couple of interesting things here. The boots are well worn. The only ammo carried is the mag that is loaded into the mag well of the (again) 80 percent AR. One odd thing is that the gas block has a plastic thread on it that looks like it secured the price tag to it at one point.
Another interesting thing about the ARs- they are all 80 percent lowers, but the similarity in parts ends there. That would seem to indicate that each of them made their own weapon. The thing is, every one of the ARs in these photos look like they are brand new. Not single flaw in the bluing. No wear, no scratches. Not anywhere. It's like they have never been fired or even handled all that often. I am wondering if they have even been zeroed.
Anyway, if you see anything interesting in these photos, let me know in comments.