Gold tops $1900 an announce, and the experts are all claiming that it is overbought, and that the bubble will soon burst.
That is the same thing that the experts said in June, when gold was at $1500 an ounce.
– and October of 2010, when gold was $1380 an ounce.
– and March, 2010, when gold was at $1200 an ounce.
– and December of 2009, when gold was passing $1100 an ounce.
– and in December of 2005, when gold was $520 an ounce.
The secret here is that the world's governments and private citizens alike are coming to the realization that the US Government cannot stop spending money, and are moving away from using the dollar as the reserve currency for the world. This is injecting large amounts of dollars into the world's markets, and making the dollar worth less. This is causing a massive devaluation of the dollar. This isn't the first time that a country has spent itself into financial ruin. Zimbabwe, the Soviets, and the Germans have all done it during the last century.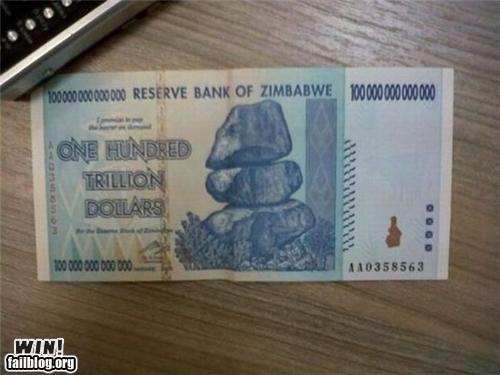 Our politicians don't care, because both parties need your money to buy your vote. They are spending us into ruin. Don't be caught holding dollars when the end comes, or you will need them to heat your home, like this woman is doing in 1923 Germany, because bank notes are cheaper than coal.
Price of 1 ounce of gold (in German Marks):
January,1919………. 170
September,1919……. 499
January, 1920………. 1,340
September, 1920……. 1,201
January, 1921………. 1,349
September, 1921…….2,175
January, 1922……….3,976
September, 1922…….30,381
January, 1923……….372,477
September, 1923…….269,439,000 (that's right- from 4 thousand to 270 million in a year and a half)
Oct. 2, 1923………….6,631,749,000
Oct. 9, 1923………….24,868,950,000
Oct. 16, 1923…………84,969,072,000
Oct. 23, 1923…………1,160,552,882,000 (over 1 trillion)
Oct. 30, 1923…………1,347,070,000,000
Nov. 5, 1923…………..8,700,000,000,000
Nov. 30, 1923…………87,000,000,000,000 (almost 80 trillion increase in one month)
Do you see how the problem escalates? This is where we are headed. Scary stuff.