Gun control activist Alec Baldwin has a negligent discharge on the set of the movie "Rust" and kills the director of photography. My question is: Why does a movie prop gun need to be capable of firing a projectile? Can't they be made intrinsically safe? And if they cannot be made safe for whatever reason, then why are they not being forced to follow the four rules?
Always treat every gun as if it were loaded. (even prop guns, if they can fire projectiles)
Always point the muzzle in a safe direction. (not even at film crewmembers)
Always keep your finger off the trigger until you are ready to shoot.
Always be sure of your target and beyond.
If OSHA can be used to require that employees get a COVID vaccine under the guise of workplace safety, then why can't the same agency ensure that no one is shot and killed on a movie set by mandating the four rules?
I remember Baldwin making fun of Vice President Dick Cheney's accidental shooting of a hunting companion.
He also more recently commented on Twitter about a police officer-involved shooting where he tweeted, "I wonder how it must feel to wrongfully kill someone…".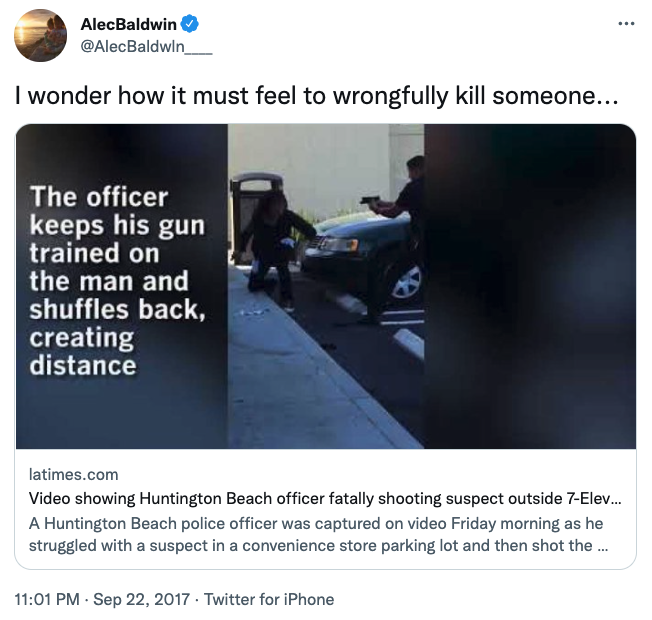 Baldwin tweeted on Sept. 22, 2017, about Huntington Beach police officer Eric Esparza being caught on video shooting dead Dillan Tabares, 27, who'd punched him and reached for his gun.
Well now he knows. Karma is a cast iron bitch.
It is homicide when someone is killed, and Alec Baldwin pulled the trigger. Therefore, even if Baldwin the shooting was accidental, charge him with negligent homicide and leave it to the jury to absolve him. Isn't that how progressive justice works?
I don't feel sorry for him at all. Maybe if he knew more about guns, this person wouldn't be dead.
One thing is for sure. Alec Baldwin, the gun control activist, has killed more people with his guns than I have.