My Dad was an engineer for Hewlett Packard. He worked in a division that did a lot of classified instrumentation work for government contractors. That's how we wound up in Central Florida- he supported all sorts of secret missile technology over at Cape Canaveral and Martin Marietta's Orlando test range. I never knew what he did- but he did bring home all sorts of cool pictures. I had one of an F-4 Phantom launching a missile, and another of a missile being launched by a submarine. My dad would bring my brother and I to work. We got to go to the space center and saw space launches firsthand. I watched history. I was there when the Apollo-Soyuz mission launched.
The first computer I ever had in my house was an HP-150– my dad brought it home from work. The fact that it had a touchscreen was amazing to me.
I had a Commodore 64 that I got as a Christmas gift after asking my parents for one in 1983. Unlike its competitor, the Tandy TRS-80, I thought that thing was amazing with its 64 kilobits of memory. When I got it, I also got a data storage device that looked like this: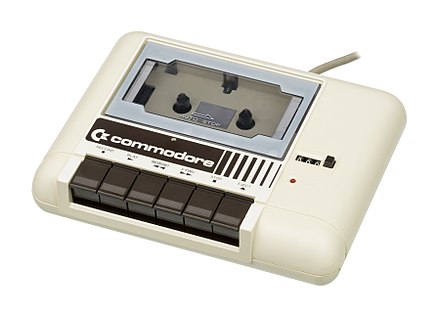 A 60 minute cassette (30 minutes per side) would hold about 200kb of data. It would take a long time to load anything, because the stream rate from the device was around 3kb per minute.
My mighty C64. I once spent a weekend typing a word processor into it by hand. The program had been published in Hexadecimal in some computing magazine or another. Having it allowed me to type documents on a daisy wheel printer that my Dad gave me for my birthday. Man, that printer was loud.
I spent a lot of time learning how to program that computer. It ate up uncountable hours of my time, as I learned how to use sprites and other cool but relatively tame (by today's standards) program features.
I eventually got a 5 1/4 inch floppy disk disk drive. It wasn't long before I discovered that I could use a hole punch to make my floppies double sided and save a lot of money. I remember my Dad telling me that no one would ever need more than 10 megabytes of storage for personal use. He said, "Do you have any idea just how much data that is? The entire library of Congress can fit in 100 megabytes or so of memory."
Just a few years later, I had a calculator that held 10 megabytes.
I didn't just use it for programming and other geek stuff. My favorite game at the time was Raid On Bungeling Bay. It was designed by the same guy who would go on to develop Sim City, a game I learned to love on PC while I was in the military.
That's how I grew up- my engineer dad and I doing stuff that, at times, was blatantly illegal. I remember spending weekends in the mid 70s using the company's WYSIWYG editor (BRUNO) to copy Atari and Intellivision software cartridges and then burning our own ROM chips. (BRUNO is crunching, nom, nom, nom) I think that makes me one of the very first software pirates. Seriously, we used expensive mainframe computers during the weekends in the late 70s to play games. I remember playing text based drag racing games, text based games like Star Trek, Oregon Trail, and others. I remember working with some of the engineers at my dad's workplace to build our own video games using our burned ROM chips.
I actually have pictures of me (as a child) with Bill Gates, David Packard, Bill Hewlett. I remember that my Dad didn't like Bill Gates, calling him a "long haired hippy." He didn't particularly like MS-DOS (kids, ask your parents) when it came out, either.
I (as most of you have) seen things come about like Microwave ovens, pagers, car phones, bag phones, cell phones, then came texting, and finally smart phones. I saw the development of personal computing. I had a ringside seat to all of it.
I grew up in a world where so many things were being invented, and I was fortunate to meet the people who were doing it, and to play with million dollar machines that were changing the world.
My dad would be 82 years old this coming week, if he were still alive. He's been gone for almost 20 years, and I still miss him every day. He was only 63 when he died. His father (my grandfather) died at the age of 54. My great-grandfather died at 47, and his mother died at 48. My family history, it seems, isn't conducive to a long lifespan. My own health issues tell me that I a take after that side of the family.
As I get closer to the age of the deaths of the four generations before me, I admit that I spend more time thinking about that. I can trace my family back to the early 1700s. I wonder what changes they saw…