I had some issues with the local services.
Issue 1: So a car hit a telephone pole somewhere in the area, and we lost power for about an hour. That isn't the bad part. The bad part is that the electrical surge that came along with it fried some electronics in the house. I wonder what a whole house surge protector costs. It seems like we are constantly losing electronics here because of power surges, although they are usually lightning related. It's pretty much an annual event.
Issue #2: In preparing to move, we were getting rid of some bulk items. We called to have the garbage people come get them, then put them out on the curb for pickup day. No one showed, they remain out there. So we call the garbage folks on our bill, and they can find no record of our house. I ask "Well, if I stop paying my bill, who will call me?" They say, "You must be covered by our contractor" and transfer the call. Company two says, nope. We have no record of your house having an account. Call company number three. So we do. Company three says that they aren't servicing our neighborhood. So back to the number on our bill. They say that company two is definitely the one, and transfer us to Company 2's manager. Voice mail, leave a message. Total time on phone: 75 minutes.
You guessed it. No call back. So we call again the next day and play phone tag for another hour, getting nowhere. I snap a picture of the garbage truck while it was picking up our garbage, and it has the name of Company 2 on the side in foot tall letters. So we call them.
Company 2 drone: "Sure, I can place an order to get your bulk items. What is your address and the name of your neighborhood?" We give them, and she says: "That neighborhood isn't in our reporting system. Do you have the correct name?"
We reply, "That is the only name. We have lived here for 15 years, and we are sure that's the name."
Drone: "Well, that one isn't in the system, and I can't put in the work order without one. The computer has a drop down menu with neighborhood names, and unless we put it in, it won't let us go any farther."
Can we speak to a manager?
Drone: "I can transfer you to their voicemail, and they will call you."
I can't drive it to the dump myself, because the closest dump is in a different county and won't accept out of county drop offs. I think what I am going to do is load the items up over the weekend, and dump them in front of the garbage people's business office and let them figure out what to do with it.
Issue #3: My storage locker had been costing me $68 a month. A new company bought out the Mom and Pop that was running it, consolidated it with three other facilities, and then doubled rates. That was back in November. When February came, they raised them again. Now it's nearly $200 a month for storage. So I spent three days emptying that 10×10 storage unit into my garage. Now I can't park in it, and I lost my little workshop I had set up in there. That's OK, since we are moving in less than a year, and we are getting a larger garage in the new place. I will probably build a storage barn in the back of the new place. I can get a 10×16 that looks like the one below for about $4,900, delivered.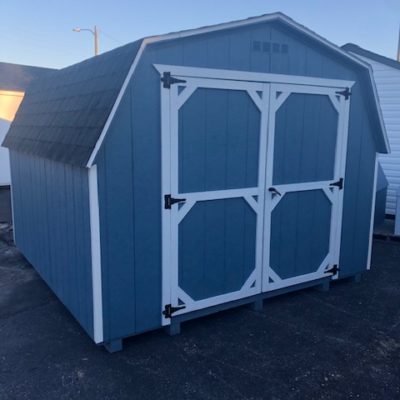 When I went in to tell them that I had moved out, I noticed that the security cameras were no longer hooked up, and I had noticed that the electric gate securing the property has been disconnected. So this place was bought out by a large company, the on site managers are gone, the security gate is gone, and the security cameras no longer work. And rates are now 285% higher than they were just four months ago. What the hell are those higher rates paying for? Don't know, don't care. I vacated the place.