Robb at Sharp as a Marble had this to say about disarming troops while on base:
A Marine, trained in the art of rifles, with a Secret clearance, fully background checked and given access to real, military grade hardware, could not own something as simple as a handgun while on base.
Do you want to know why such rules happen? Here is why, according to the FBI:
Many street gang members join the military to escape the gang
lifestyle or as an alternative to incarceration, but often revert back
to their gang associations once they encounter other gang members in the
military. Other gangs target the U.S. military and defense
systems to expand their territory, facilitate criminal activity such as
weapons and drug trafficking, or to receive weapons and combat training
that they may transfer back to their gang.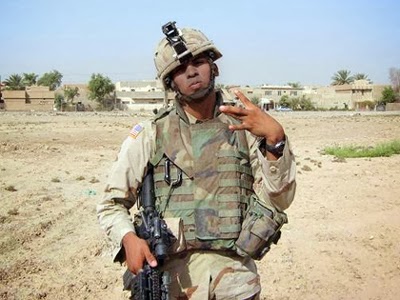 ~ In
Iraq, armored vehicles, concrete barricades and bathroom walls have
served as canvasses for spray-painted gang art. At Camp Cedar II, about
185 miles southeast of Baghdad, a guard shack was recently defaced with
"GDN" for Gangster Disciple Nation, along with the gang's six-pointed
star and the word "Chitown," according to the Chicago Sun-Times.
~ In Germany, a soldier is being prosecuted this week for the murder
of Sgt. Juwan Johnson, beaten to death on July 4, 2005, allegedly during
a Gangster Disciple initiation in Kaiserslautern.
~ In September, Department of Defense Dependents Schools in Europe
warned teachers and parents to watch out for signs of gang activity,
including the deadly MS-13 gang. At the time, DODDS-Europe public
affairs officer David Ruderman said there had been two incidents in the
past 18 months that involved students fighting, wearing gang colors or
claiming to be members of gangs. In one of the incidents, a student's
family member may have been a gang member, he said.
~ Earlier this year, Kadena Air Base on Okinawa established a joint
service task force to investigate gang-related activity involving high
school teens linked through the Web site MySpace.com.
When I joined the military in the mid-eighties, I arrived at my first command, and I was told stories by the "old timers" about how things were in the late seventies. They told me stories about people doing lines of cocaine right on the tables in the lounge areas of the ship. They told me stories about how the officers would not enter the enlisted berthing areas without armed escorts. Drug use and drug dealing were widespread.

Vietnam, and the seemingly directionless leadership had stripped the military of honor and left the United States with a hollowed out force. That is not to say that everyone that entered the military was a drug abuser. No, like a bad neighborhood, many of the people that are there are good people, but there are still more troublemakers than average.
I think we are seeing the same thing now: The bad economy, combined with the leadership that is lacking for our military, has combined to recreate the hollowed out shell of a military that we had in the 1970s. Instead of a fighting force, our military has become a type of welfare– a jobs program, if you will. A jobs program that doesn't care about your honor, your background, or your mental state. After all, Aaron Alexis joined the Navy on a criminal background waiver. Eighteen percent of recruits joining the Army need criminal history waivers.
In 2007 more than half of the Army's 511 convictions were for thefts, ranging from burglaries to bad checks and stolen cars. Another 130 were for drug offenses. The remainder included two for manslaughter; five for sexual crimes, including rape, incest or sexual assault, and; three for negligent or vehicular homicide. Two received waivers for terrorist threats including bomb threats in 2007.
Even the Marines are not exempt. 235 of the Marine Corps' 350 waivers were for various types of thefts in 2007, and another 63 were for assaults or robberies that may also have included use of a weapon. The remainder included one for manslaughter in 2007; four for sex crimes; and five for terror threats, including bomb threats.
Without honor, of course the powers that be are afraid of giving you weapons. How many more people that are as crazy as Alexis, and have an even worse record? I am betting that there are more than a few.