During the recent school shooting, the cops were all "pinned down" and taking cover for an hour and a half while the shooter was busy killing ten year old kids. I first saw this from JKB over at GunFreeZone. JKB was catching some flak in the comments about slamming cops over unverified reports. I actually believe that the cops waited, because it explains some inconsistencies in the shooting timeline that didn't make sense before.
We see this all of the time in third world shitholes: the cops and military are great at abusing and bullying unarmed civilians, because they have all of the guns. This is why American cops use the SWAT unit for everything from serving warrants on grandma to arresting fugitives. It's also why you see SWAT running around in tanks behind bulletproof shields while they toss grenades into baby cribs. It's why they run around in groups, slashing tires and doing drive by shootings on unarmed citizens.
Initial reports were that the SRO exchanged fire with the shooter as he entered the school. That turns out to have likely been a lie.
There was a huge coverup of police malfeasance. False statements and all. There is even 18 minutes of radio traffic missing from the recordings on Broadcastify, which the cops are attributing to "technical issues."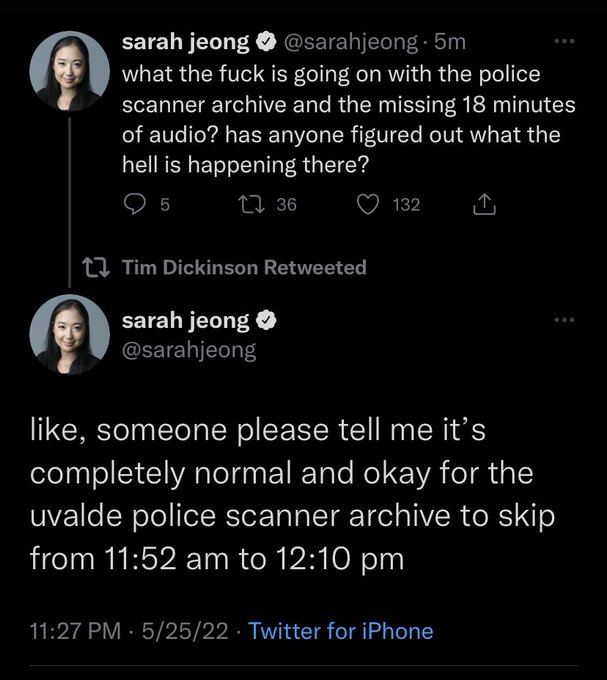 Then the cops stood there, Tasers in hand, and not only refused to help the kids, but refused to let the parents do it, either.
Any officer involved in this shooting who turns out to have lied about being a hero while cowering outside, listening to the sounds of ten year old children getting shot in the face needs to be fired and have his pension revoked. Then they need to put him on the Biden list of cops who can never work as cops again, and then press criminal charges against them for falsifying reports and for being a cowardly pussy, but you know, in legalese because I don't think you can use the word "pussy" on a legal document.
Sure, there are a few upstanding cops who will run to the sound of the guns, and for them I reserve respect and admiration. It must be tough trying to do your job while surrounded by cowardly bullies and catching all of the shit that they earned but you don't deserve.
The rest of those cops? They can eat my shit. I have less forgiveness in my heart for them than I do for the shooter himself. Those cops swore an oath, and those kids deserved more from those shitbag cops than they got.
UPDATE
It also turns out that the cops went in rescued their own kids, but were pinning fathers who weren't cops to the ground to prevent them from doing the same.
If my kid had been killed because one cop pinned me to the ground while another cop went in to rescue his own while leaving my kid in there to die? The cops who did that? Their lives would belong to me. I would get a list of the cops who were there, and I would hunt them down one by one. Pussies.