There are still people out there who are trying to turn Craig Robertson into a martyr. Let's look at what got him a visit from the FBI. First, there was the threats:
This isn't a direct threat, and probably won't trigger an FBI visit. However, when it gets to this point:
Note how specific those were. Threatening to kill people, especially the President, will generally get you a visit from the Feds. This goes beyond protected speech. He said both how, when, and where. Kind of stupid, to be honest.
We know that he had been visited before: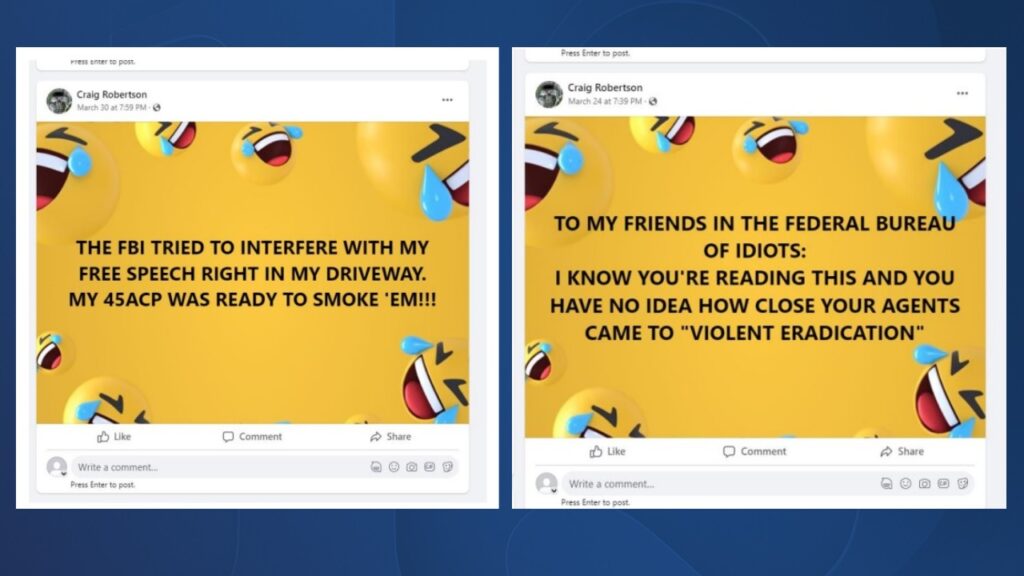 So you have a guy that is issuing specific threats to kill the President this week in Utah. He has threatened multiple officials in the past, and you have gone to talk to him about it. Instead of cooling it a bit, he doubles down, and this time says if the FBI comes back, he is going to shoot at them.
So with the President coming to Utah, they decide to pay him a visit. Only this time, instead of a friendly chat, they decide to come by with a warrant and some felony charges. How would you go there, if you were in their shoes?
Look, in this case, you play stupid games, you win stupid prizes. FAFO, however you want to put it. If you are going to issue specific threats to kill someone, you gotta expect them to take it seriously. That's a crime, and this is entirely Mr Robertson's fault for being a loudmouthed dumbass.
This isn't Waco, it isn't an FBI overreaction, and it isn't anyone in the Feebs sending a message. It's not protected speech. This guy isn't Ashley Babbitt. This is a loudmouthed idiot who couldn't stop his mouth from writing checks that his ass wasn't ready to cash. I'm just not going to make this guy into a martyr.