I awoke this morning to find an email in my inbox from the Florida Department of Health. In that letter, Florida healthcare providers find a notice that the FDA has revoked the EUA for all monoclonal antibody treatments used in treating COVID.
January 24, 2022
On January 24, 2022, the U.S. Food and Drug Administration (FDA) reissued the emergency use authorizations (EUAs) for Eli Lilly's bamlanivimab-etesevimab (administered together) and Regeneron's REGEN-COV (casirivimab and imdevimab) monoclonal antibody treatments, which states these treatments are not authorized for use in any U.S. state, territory, or jurisdiction at this time. The full FDA press release can be found here.

Corresponding revisions have been made to the authorized fact sheets for bamlanivimab-etesevimab and REGEN-COV. These fact sheets are available of the FDA's website.

As a result of the reissued EUAs, health care practitioners in Florida are no longer authorized to administer these monoclonal antibody treatments to patients, effective immediately. Further, all state-supported monoclonal antibody sites are closed effective immediately due to the abrupt change from the FDA.

Resources for emerging treatments can be found at HealthierYouFL.org. Pharmacies that have received allocations of antiviral treatments can be found at FloridaHealthCOVID19.gov.

The full Florida Department of Health press release can be found here.
This is important, because to this point, monoclonal antibodies were the only effective treatment for COVID.
Politico even recognizes that this is a political decision. The Biden administration has been in a constant state of conflict with the DeSantis crowd for the past few months over the monoclonal antibody treatments. Biden was purposely directing the treatments to states who voted for him, while denying them to states that didn't.
So DeSantis simply signed an agreement with the manufacturers to buy the drugs directly from them. The the Governor announced in December that the state of Florida would be giving the treatment free to anyone in the state with COVID.
The Federal government claims that the monoclonal antibody treatments don't work, but that a new pill from Merck does. So, they ask, "Why is Gov. DeSantis more interested in promoting medicines that don't work than urging people to take vaccines that do?"
To that, I ask: If the monoclonal antibodies didn't work, then why did the Biden administration cut off supplies to Southern states in order to supply northern states? Just in August, the Feds were saying
"Four different monoclonal antibody treatments have been granted Emergency Use Authorization by the Food and Drug Administration (FDA) and have proven largely effective at preventing hospitalization and death from Covid-19. The treatment developed by Regeneron, for example, reduced the risk of hospitalization or death by 70% in studies. "
Let me tell you what this really is: We have a President who has a 33% approval rating and obviously cannot run in 2024 with a snowball's chance of winning the election, even with massive voter fraud. He may in fact, wind up being the first President ever with single digit approval ratings.
So the remaining field looks like this:
For the Democrats, polling indicates that Harris' approval for President is 35%, compared to Michelle Obama's 16%, and AOC trailing at 7%.
For the Republicans, Donald Trump would win against either Harris or Biden. That is going to be taken care of with criminal charges. Before 2024, the Democrats are going to convict Trump of something that will prohibit him from running.
If Trump isn't in the mix, DeSantis received 30%, Pence grabbed 24% and Texas Sen. Ted Cruz nailed 14%. In a race between Biden and DeSantis, Biden has a 42% to 36% lead, but DeSantis is a virtual unknown to voters outside of Florida. Once a campaign begins, he would gain significant support. In fact, DeSantis has been gaining support for months.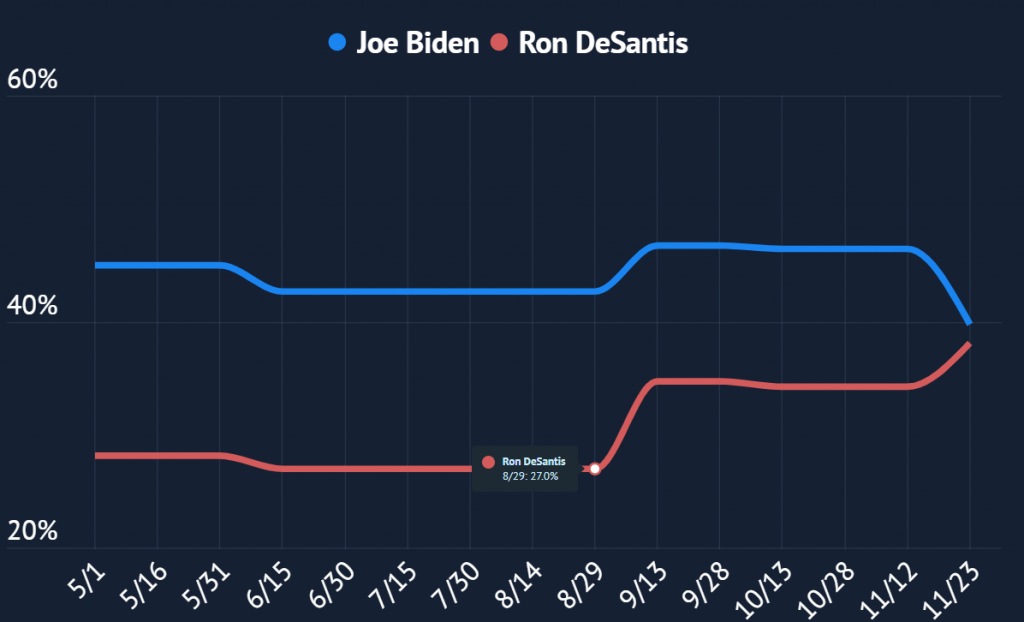 Therefore, DeSantis must be eliminated from the race if the Democrats want to tilt the election in their favor. Taking the wind from his COVID sails is the entire point of cutting off monoclonal antibody treatments.
COVID is a political weapon. It has been since the beginning, and will continue to be. The left will stop at nothing to win elections and get more power. They are going to use every tool that they have: biological warfare, violence, and voter fraud. All of it. They will not stop until they have complete and total control of this country.