Frank Clark is a defensive end for the Kansas City Chiefs. He has signed a $104 million contract to play a child's game for five years. This country has been so unfair to him that he decided to take a knee during the National Anthem: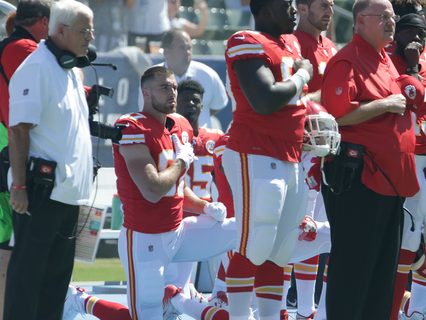 How has it been unfair? Well, they charged him with a felony, to which he pled guilty while he was a student at Michigan, where he was attending college for free. What was his crime, you ask? He forced his way into a fellow student's dorm and stole his Apple computer. A violent felony because free college wasn't enough.
He was arrested again later for domestic violence when he beat and choked his girlfriend into unconsciousness.
Yes, this country has been so unfair to Frank Clark. I can see why he would want to protest the injustices that this country has heaped upon him.
So why is this relevant? Frank Clark, a person prohibited from possession of firearms or ammunition was arrested in March in the state of California and charged with criminal possession of an assault weapon. Then he was arrested again just last month for illegally carrying a concealed weapon.
I wonder if he will actually spend time in jail, or if his celebrity status will still grant him a get out of jail free card. Yes – life is so unfair to American athletes. They should all take a knee in protest.