During the Florida Blogshoot, I had the opportunity to shoot Dave of Ammoman's Scout Rifle. I was amazed at how much lighter his rifle was, and how little felt recoil there was. I knew right then and there that I would have to build one of my own. In keeping with his ScoutRifle 2.0 theory, I began thinking about what I wanted to do with a new rifle.
I want something that is going to be more suited to a militia kind of battlespace:
I need my rifle to be relatively lightweight, right around 8 pounds carried weight. My Oracle is too heavy at 9.3 pounds unloaded with an ACOG on top.
I want a rifle that had more power, more range, and fires a larger bullet than the 62 grain 5.56mm that my AR15 uses.
I also want to stay with the AR platform.
I thought that .308 would be a great caliber. Now since parts are kind of hard to come by these days and it would be difficult to get a lower right now, I decided that instead of building a new rifle from the ground up, I would simply rework my DPMS Oracle:
I reworked it by replacing the 16 inch heavy barrel that came with the rifle with an 18 inch Faxon pencil barrel. Then I added an EDGE 15 inch Carbon Fiber handguard from Brigand Arms, an adjustable gas block, a Nitromet gas tube, and a Gemtech compensator. I also replaced the bolt carrier with a low mass bolt carrier from JP rifles.
I used the bolt that originally came with the Oracle, because JP rifles didn't have any bolts in stock. I checked the headspace on the bolt, and it locks up fine with the go/no go checker.
I just finished assembling the rifle. The rifle weighs 7 pounds without the ACOG and 8.1 pounds with it. The balance is right in the center of the mag well. It is 36 inches long and looks great: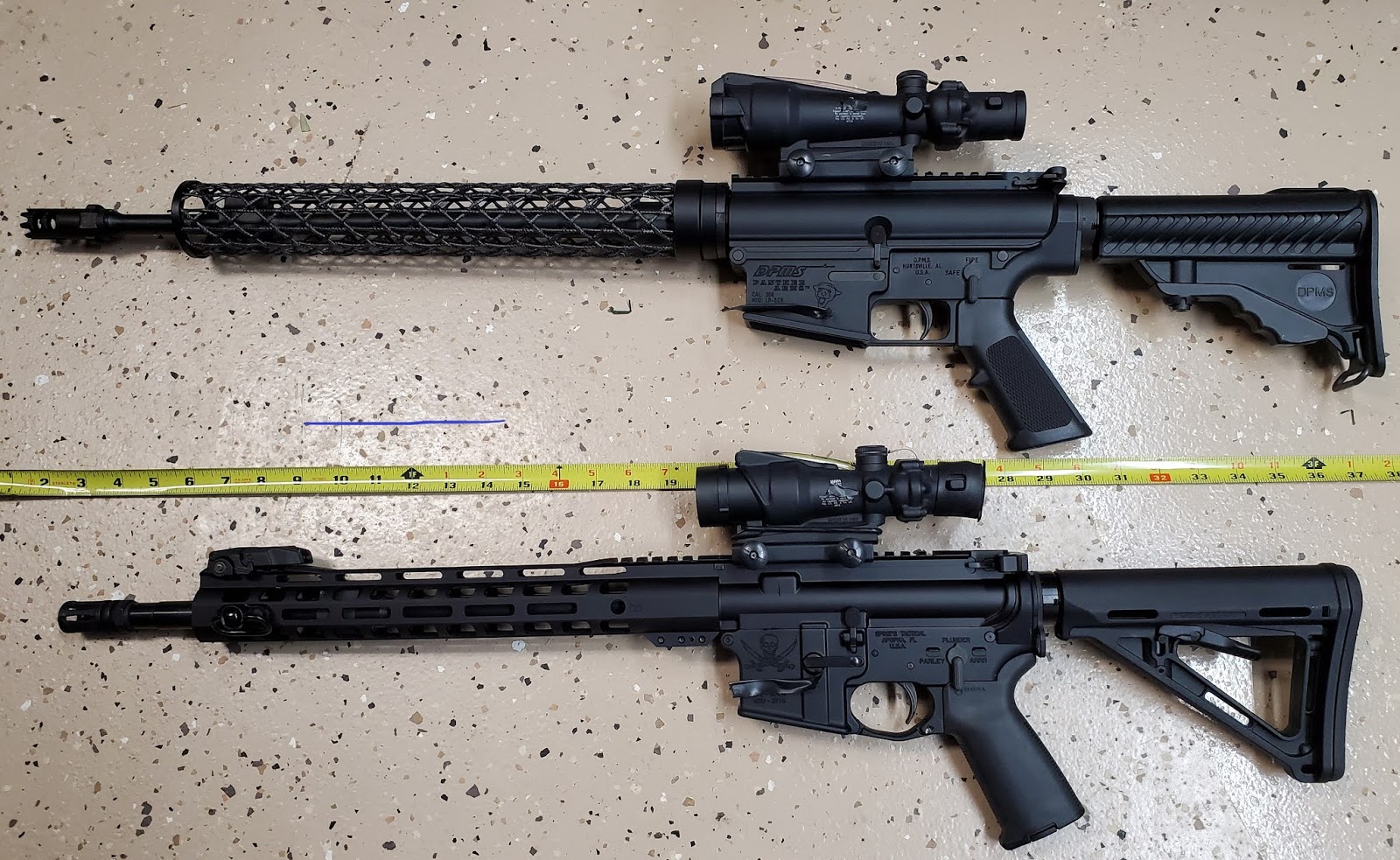 Here it is, pictured above my AR15 for comparison. The AR-10 only weighs 3/4 of a pound more than its 5.56mm cousin. I am now (no so) patiently waiting to take it out to the range on Saturday. I need to tune the gas block and get the scope dialed in.
I know that the pencil barrel won't do as well with a large amount of fire as the heavy barrel, but this is not a battle rifle. It's also too heavy to call a scout rifle. I am going to call this a skirmish rifle.
In all, the modifications cost me right at $1,150. Counting the cost of the original rifle and the ACOG, the total cost for this rifle is right around $3,200. I already know that the rifle is just as easy to carry as my AR-15, and packs a bigger punch. I am hoping it is a tack driver.