My one real vice is that I am a gambler. This made my wife nervous when we were first together, because she didn't like to see me betting several hundred dollars at a time. She has since come around and realized that you can gamble without losing your house or life savings. She even plays with me, but won't play when the table minimums go over $20.
At any rate, I gamble enough that I get the occasional free stay. Back in March, we had a free stay (complete with hotel, airfare, hotel transfer, and a $100 credit for food) at the Beau Rivage in Biloxi. Two days before we were supposed to leave, the trip was cancelled.
With the school year starting back up next week, we had completed our required summer training sessions, so I decided to go on vacation while we could. Last Monday, we drove from our home to Biloxi and stayed in a hotel for three nights. The stay wound up costing us $500 for everything including food. Where they got me was the casino. I wound up losing about $1200 at the craps table.
We got home and were immediately offered 4 free nights in Las Vegas. The airfare was $100 each round trip, so we went. Las Vegas is my very favorite city. I know New York claims to be the city that doesn't sleep, but Las Vegas really doesn't. and they have fun doing it.
Now we usually come to Vegas twice a year. Last year, we were here for Christmas and in March. (We LOVED coming for Christmas) This week's visit is our first this year. The differences are jarring.
The place is a virtual ghost town. Many shops and restaurants are closed. Quite a few of the large casino resorts are closed, and the ones that are open are virtually empty. I have been here during the busy and slow seasons, and this looks like an unusually slow season.
We are at the NY NY casino. It is so empty here, that they offered us an upgrade into their largest suite for $80 a night. We were originally booked in a King room for free (all you pay is the resort fee) for 4 nights. We moved to this GIANT suite of 1100 square feet. It has a whirlpool for 2, with complementary drinks in the mini fridge. The cost for 4 nights? $600, and they threw in $100 for food and $75 for some free gambling money. Here is the view* from one of our windows (the suite is on a corner and 2 walls are windows):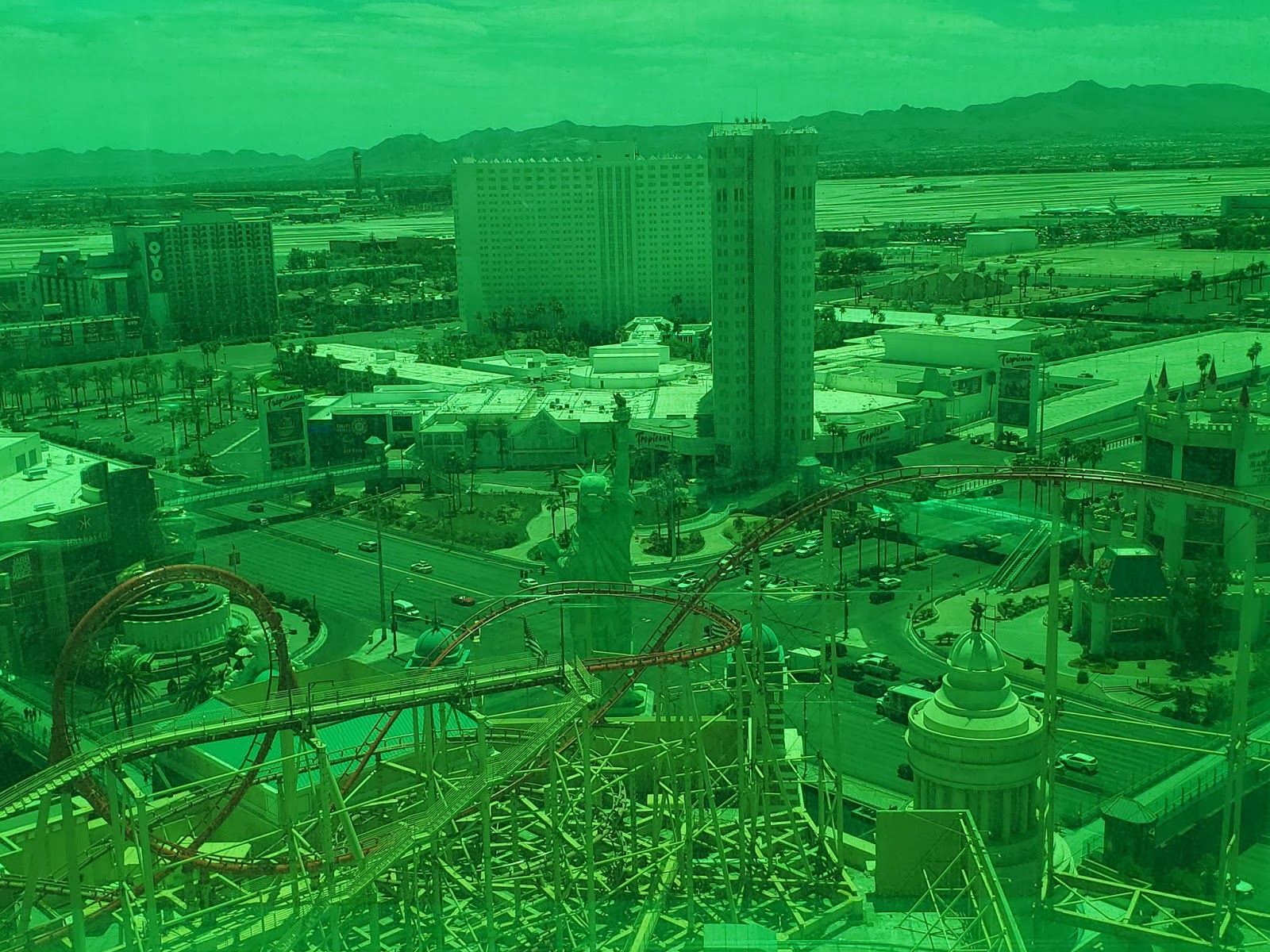 (green because the windows are tinted)
If you are familiar with Vegas, you will see that traffic is almost nonexistent compared to normal. The road running from lower left to middle right is the Las Vegas Strip. It is normally packed this time of day.
The hotel seems nearly empty. That is probably why we got the suite so cheap. There is a restaurant near the casino floor that is normally open 24 hours a day. I normally love eating there for breakfast because they have strip steak and eggs for $16. Now they are only open 7am-3pm.
The bars are closed, but not restaurants. Last night, we got several large Margueritas and some outstanding Mexican food. There is a bar on the casino floor where we like to sit and watch people/sporting events/etc. It is closed.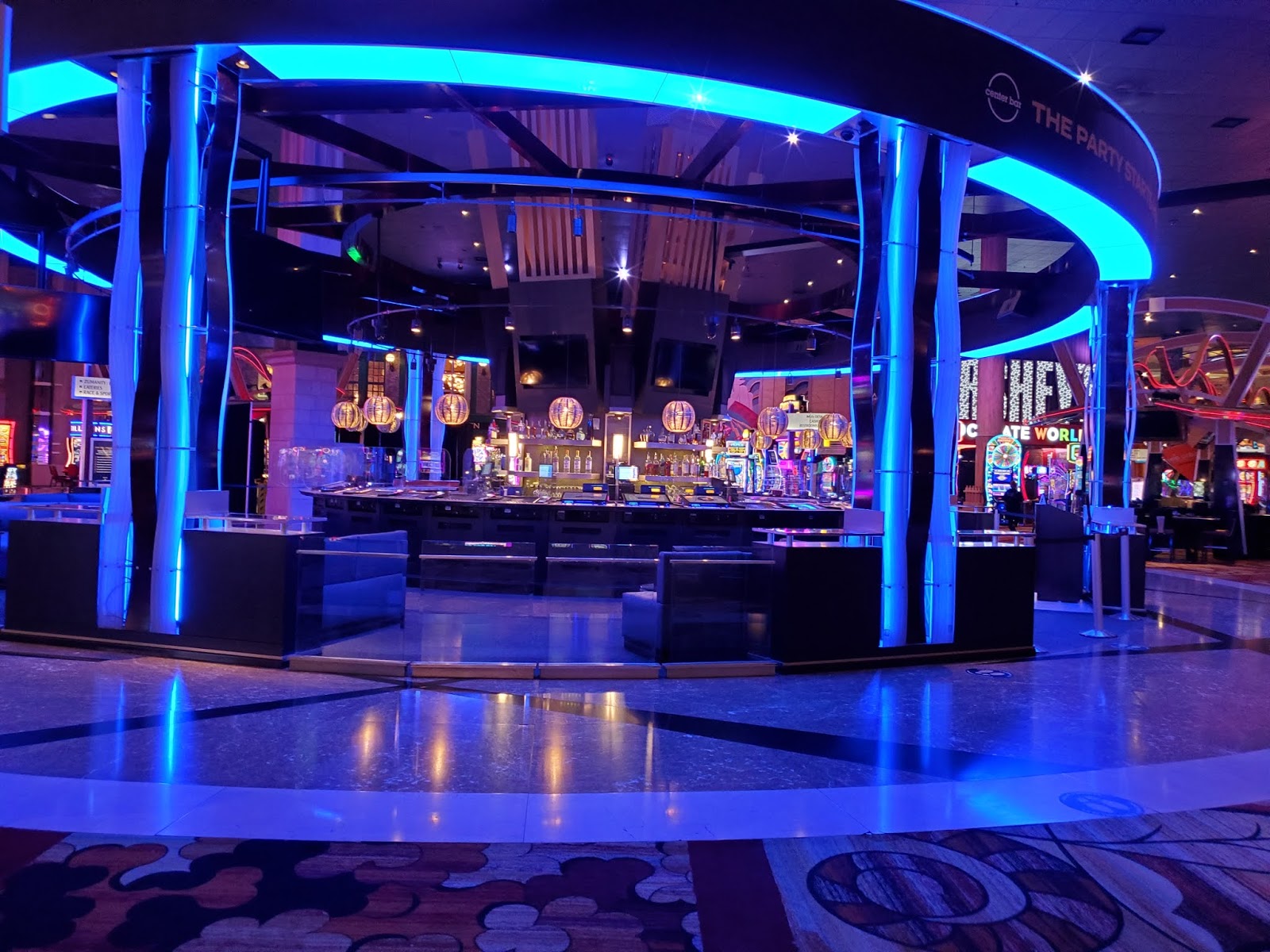 The tables are just as deserted. Here is a Blackjack table: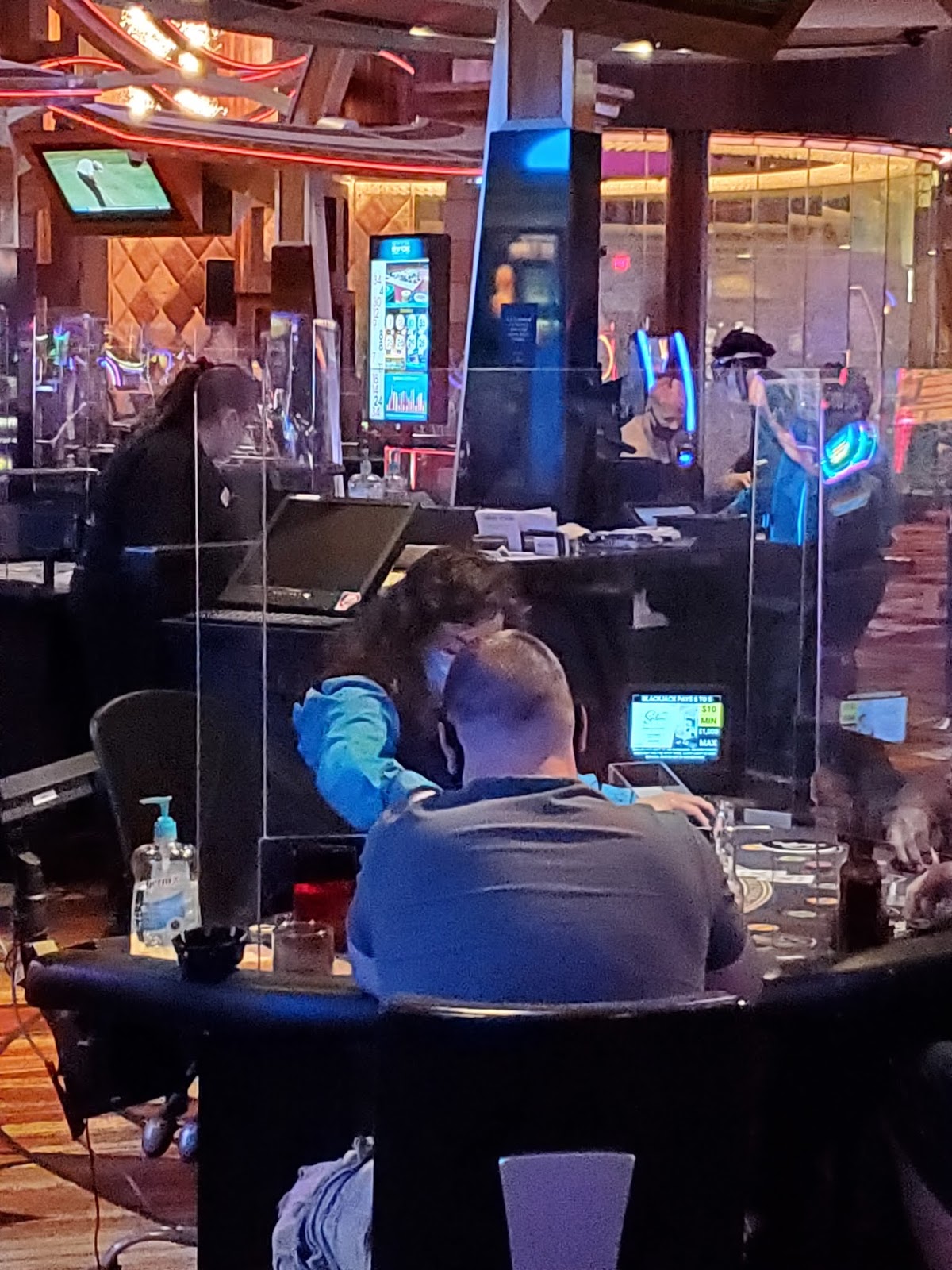 Note that there are only three players to a table, and they are all in a plexiglass booth. Masks required.
Here is the Craps table. Note there are dividers between players, only three players to a side (normally it's 8), and most importantly- the tables are closed during the day. Usually, there is at least one table open 24 hours a day. The table minimum when it is slow (especially during the day) is $10, increasing depending on how busy things are. Now, even with as slow as it is, the minimums are $25.
Vegas is hurting. All of America is hurting. This COVID stuff needs to end, before we kill the economy. I personally think it's deliberate. Hopefully it will be over by November.
The news here is different. It leans even more to the left than I am used to. Every story seems to relate to "Orange Man Bad"- even more so than at home.
* an interesting aside: On the upper right of the picture, you can see some aircraft parked in front of a hanger. That is the CIA's so-called "secret airline" The parking lot in front of it is for employees of the CIA and of the Groom Lake facility, I am told.)