If you live in the southeast, especially in Florida, you know what Publix is. Publix is quintessential Florida and has been since before my parents were born. Things like BOGO and PubSub are just a part of what makes this store unlike others. Now I know that the prices are not always the lowest, but once you come to know Publix, you come to know when and how to get the best prices. The nice thing about Publix (and why prices are slightly higher) is that many of the products are locally grown: produce, meat, and much of the seafood comes from Florida, as do a lot of the other products.
One of the things that Publix does, is sell food items that make Florida culture what it is. In the spring, that always means grilling out. Yes, you know that spring has finally arrived when Publix begins selling the stuff you need for grilling your dinner. One of the meals that I always make to begin the spring grilling season is: BBQ chicken quarters, grilled ears of yellow corn still in the husk, fries, and grilled watermelon.
I went to Publix to get the stuff today, and this is what I saw: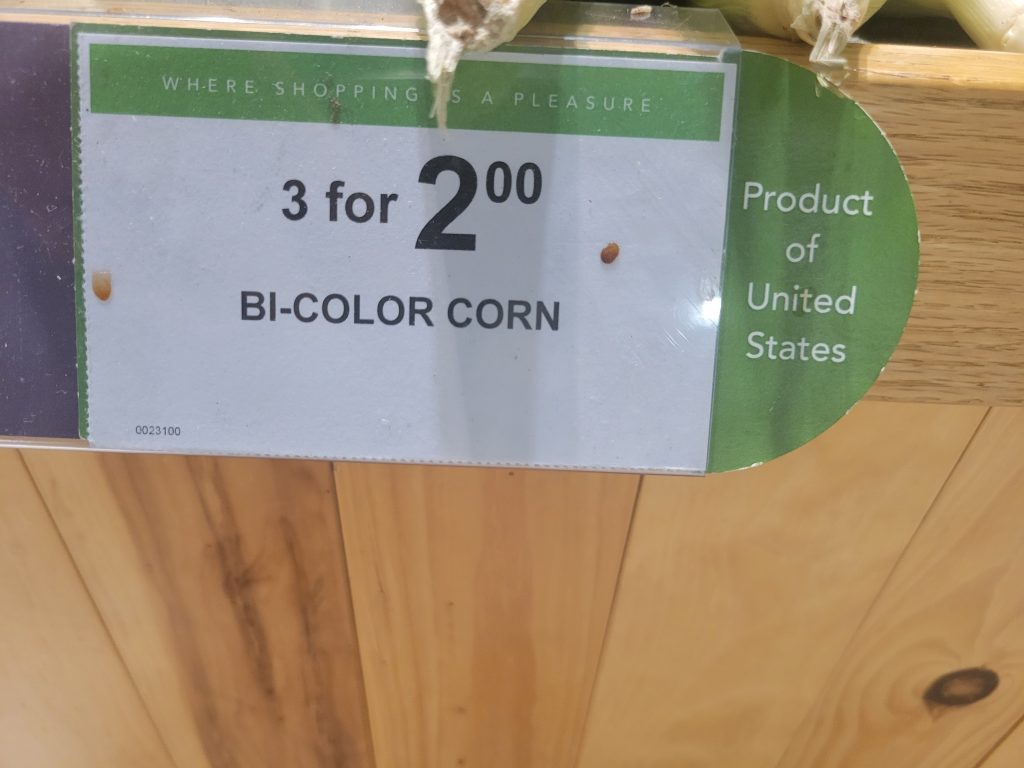 There are so many things in this picture that are problematic.
First, its bicolor corn, not yellow. There is no yellow corn.
Second, bicolor corn is usually even cheaper than yellow.
Third, ears of yellow corn have sold 5 for $2 every spring and summer for the past few years. Until now.
So this is not only a shortage, but also indicates about a 70% year over year increase in the price of corn, and the corn you get for that inflated price is inferior to what you got just a year ago.
Next, I stopped by the meat department for the chicken quarters. They had chicken breasts, they had thighs, and they had breasts, but no quarters. The butcher asked me if I was looking for anything, and I told him I wanted some chicken quarters for some grilling. He laughed and said he was looking for a blonde millionaire who would trade him a Ferrari for some sex. I told him that he must be keeping his Ferrari out back with the chicken quarters. We laughed, but then he said that they have been hard pressed to keep the meat department stocked over the past few weeks.
The signs are being carefully hidden, but they are there. It's ominous, but the signs are there.