Accusations of racism are the most effective weapon of the left. Take this couple for example: A couple of tourists from New Jersey who came to Orlando during the CPAC weekend. They are TSA agents, by the way. They are no different from the rest of the liberal northerners who have decided to hide out from the Liberal Democrat initiated COVID lockdowns of their home states.
They decided to dine at Maggiano's at Pointe Orlando, which is located in the tourist corridor of Orlando's southwest side on International Drive- just a block away from the Orange County Convention Center. For the record, this is a picture of the dining room of Maggiano's: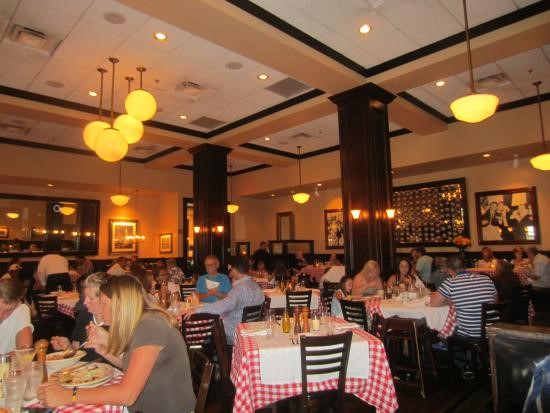 The couple, who is biracial, were seated in the restaurant by the host. They noticed that all of the diners in their part of the restaurant were black, while the diners in the front half of the dining room were white. Now this place is one large dining room.
Even though the host who seated them was also black, they accused the restaurant of segregating diners. The owners of the establishment explained that the reason that so many black people were seated near them was because a large black family had come in to dine, and the 36 people had requested that they sit near each other. They even gave the couple a gift card for $200 as an apology.
That isn't good enough for them, with the couple continuing with their accusations. I suspect that the REAL reason for the accusation was also mentioned by the couple: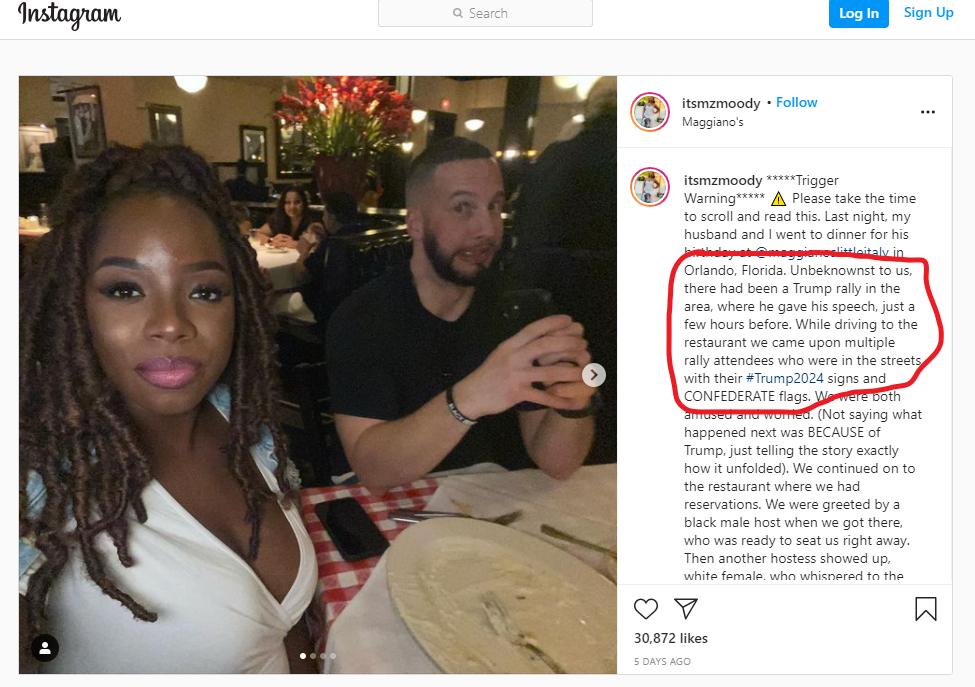 Don't you see? This is the south, and we down here are all Trump supporting racist rednecks. Fuck you. Go back to New Jersey.
Here is her post in its entirety:
Trigger Warning ⚠️ Please take the time to scroll and read this. Last night, my husband and I went to dinner for his birthday at @maggianoslittleitaly in Orlando, Florida. Unbeknownst to us, there had been a Trump rally in the area, where he gave his speech, just a few hours before. While driving to the restaurant we came upon multiple rally attendees who were in the streets with their #Trump2024 signs and CONFEDERATE flags. We were both amused and worried. (Not saying what happened next was BECAUSE of Trump, just telling the story exactly how it unfolded). We continued on to the restaurant where we had reservations. We were greeted by a black male host when we got there, who was ready to seat us right away. Then another hostess showed up, white female, who whispered to the male "well they're gonna have to go to table 113". He responded saying, "oh..ok". Then proceeded to take us to our table……all the way in the back of the restaurant. We got to the table and i immediately noticed a stark contrast from the patrons in the front of the restaurant, versus where we were being seated. Guys….I shit you not…this restaurant was segregated!!!!!!!!! In 2021!!!!!! Our minds were BLOWN!!!!!! While we wanted to leave because we couldn't believe what we were witnessing and being subjected to, our hunger from traveling all day without a single meal outweighed our shock of the moment. Needless to say, we sat there watched ppl come and go, and yeah…..they continued to seat black and brown folk in the back by the door. We made sure to document as much as we could because we didn't even think anyone would believe us. But guys….this ACTUALLY happened!!!! If you've stayed and read this post in it's entirety, please share this story. •
•
•
• #segragation #black #white #triggered #BLM #racism #maggianoslittleitaly #orlando #florida #explore #explorepage #endracism #shaderoom