Today, the Biden administration announced that it is selling another 20 million barrels from the US oil reserve. It's obvious at this point what the administration's plan is- they are selling our nation's future security in order to safeguard Democratic election chances by depleting our nation's reserves of a vital war material.
When Biden took office, the US oil reserve was 638 million barrels. As of July 17, the US strategic oil reserve stood at 480 million barrels. In the 189 intervening days, there were 158 million barrels removed from the reserve, with more already earmarked to be removed and sold. Accounting for all promised sales, the reserve will be less than 340 million barrels by October 1. That means nearly than half of our oil reserves will have been sold by the administration in less than 9 months, and represents the lowest amount of oil in reserve since 1983.
The graph below, found at this location, outlines the depletion of our reserves, but keep in mind that this graph was created on June 17, which was before the most recent sales and releases that were authorized by the Whitehouse.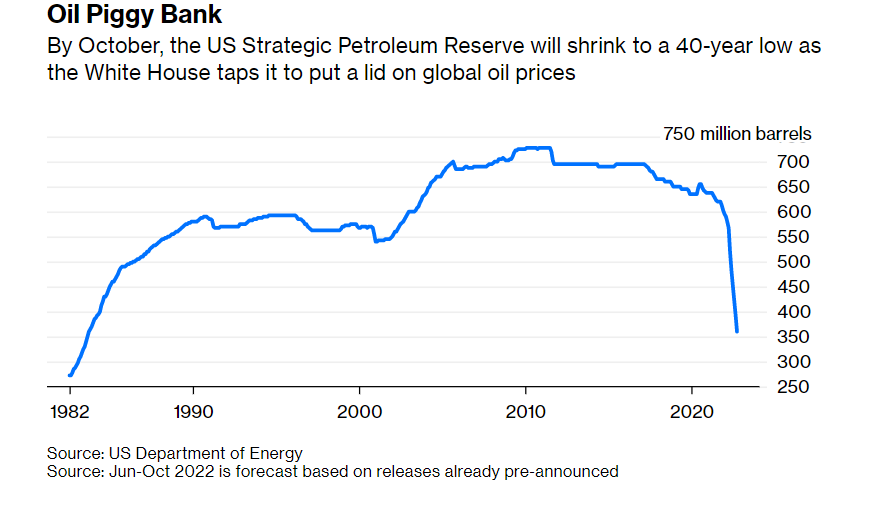 Keep in mind that Biden announced in March the release of 240 million barrels. This administration has no choice but to continue selling oil at this rate all the way through the election. What this means is that we will continue bleeding oil from the reserves at the rate of more than a million barrels a day.
It's much worse than that, however. The SPR contains two kinds of crude: medium-sour, and light-sweet. Typically, US refiners prefer medium-sour crude, which can easily be processed into gasoline and other products. The light-sweet in the reserves has a much lower density, and is not as favored by refiners. So far, 85% of the oil removed from the SPR has been the medium-sour crude.
By October, the SPR will hold only 179 million barrels of medium-sour crude. Clearly, Biden is running out of firepower and out of time. By 2023, the US SPR will be virtually out of medium-sweet crude in the SPR.
Should that happen, you can expect gas shortages and when you can find gasoline, expect to see prices hit $10 a gallon or more.