Check it out. The idiot is still pushing it. The following email is from Stephanie Tuttle Coccarelli of Fredonia, NY, a 30 year old Recruiting specialist who works for Venture Forthe, as per her public Facebook and LinkedIn account postings.
How did your convo with my FORMER employer go?

You can expect my attorney's response and police report to follow. 😉

Unless you'd like to just remove the identifiable information now. You do not have my permission to share and I will involve whoever needs to be involved to get it removed.

I have already been in contact with all of your registrars to have my personal information removed.

I never doxxed you, like you're falsely claiming so maybe we need to consider investigating libel as well.

Consider this an informal cease and desist, while the mail delivers the certified copy.
Let me explain to you how the world works. You told me that you were reporting me to my registrar, and were going to get me fired. You set up a campaign amongst your followers to get me kicked off Twitter. I have screen shots. Truth is an absolute defense to libel. It's called the substantial truth doctrine. Everything that I posted was true to the best of my knowledge and belief. Again, I have screen shots to prove it. Remember that in any legal action, everything that you posted is admissible and can be produced by Twitter in response to a subpoena. Oh, and I am saving a copy of your email as proof of your continued threats and harassment. Appended to the end of this post is the header from your email. So let's review your statements:
You said that "Good thing your [sic] pretty anonymous or you'd be getting called in to HR for violations of your obligation to treat all patients with respect." then you included a picture of a hand flipping the bird. So the implied threat here is that, once you identify me, you will be calling my HR department. Now that you have emailed me, I guess the conditions for you threatening my job have been met. Oh, and posting screen shots of this blog on Twitter and making threats is also evidence of your stalking..
I believe that your CURRENT employer is Venture Forthe, since you posted about a job fair there just last year. You made the post public specifically so that it could be shared. That places it in the public domain, you stupid cow.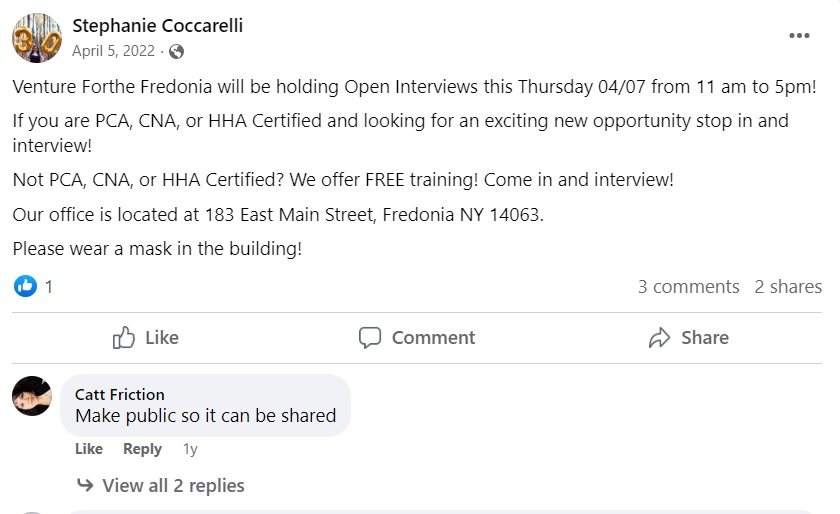 Everything that I posted was freely available public records, or had been freely shared by you on the Internet. There is nothing illegal about that, as things YOU post on the Internet are in the public domain. Registrars have no control over content, so they aren't going to be doing anything. You don't know what a registrar is, and I am betting you don't have a lawyer, either. If you did, he would be facepalming at how you keep stalking me.
There is nothing legally actionable in me responding in kind to your continued campaign of harassment. I am not removing shit. Send me a cease and desist, send in a police report, I don't care. I also want to point out that every time you send me something, I will post a link to that information, which will only serve to increase my search engine rankings and make it more visible to search engines like Google. Thanks. I can see the posts where you asked your followers to identify me and come after me. I have screenshots of that, too.
My advice to you is this: Let it go. As long as you keep this going, it keeps going. Or you can keep throwing your temper tantrum and stalking me, and we keep posting about this. In the meantime, everything that you post is being recorded for posterity, because the Internet is forever.
Return-Path: stephanietyler7467@gmail.com
Delivered-To: divemedic@areaocho.com
Received: from mproxy202.prod.i.riva.co ([10.10.81.52])
by <redacted> with LMTP
id YFoRFm/ycGS0dQAAnHysww:P1
(envelope-from stephanietyler7467@gmail.com)
for divemedic@areaocho.com; Fri, 26 May 2023 17:54:55 +0000
Received: from mx.flockmail.com ([10.10.81.52])
by<redacted> with LMTP
id YFoRFm/ycGS0dQAAnHysww
(envelope-from stephanietyler7467@gmail.com)
for divemedic@areaocho.com; Fri, 26 May 2023 17:54:55 +0000