This is a gear review of the HexMag Series 2 AR-15 30-Round polymer magazine. I first came upon these when I was shopping for new magazines for my AR pattern rifles over at GunMagWarehouse.
The price was right at $9.99, and being that they are selling at 33% less than the Magpul PMags, I decided to get a few. The magazine spring is stainless steel for corrosion resistance, and you can disassemble the magazine without using any tools. The magazine follower is safety orange, but more on that in a minute.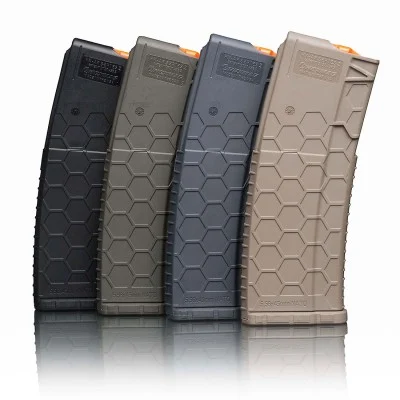 The construction is sturdy, and I especially like that the hex pattern on the magazine enhances grip, especially if your hands are wet. Speaking of wet hands, HexMax also makes grip tape to make the outside of the magazine easier to hold on to. The biggest flaw with this tape is that it is not available in any colors other than black or grey. The other major drawback to the tape is that it is out of stock.
One of the things that I like is the ability to order color identification kits. These kits allow you to change out the follower and dust cover of a magazine. This allows rapid identification of different loadings or calibers (say 300 Blackout, or different bullet weights). You can get them in any one of seven different colors, and they sell in packs of four for $7. I didn't buy any, but it's nice to know that they are available. You can see that the color code is visible from the base as well:

They engage my rifles well, and there are no problems with them at the range. The fed and operated flawlessly.
For the price, I recommend them. Keep stocking up on mags, guns, and ammo. You can resupply friends, or even resell them later. At least their value isn't being destroyed by inflation.
---
As usual, the disclaimer: I don't advertise, and receive no compensation whatsoever for my reviews. I have no relationship with any products or vendors that I review here, other than being a customer or user of those products. I pay what you would pay and don't take any discount that is not available to the general public. I only post these things because I think that my readers would be interested.