Athletes are more prone to sudden cardiac death and arrhythmias than nonathletes. Sudden cardiac death in athletes is rare in the absence of heart disease, with the exception of commotio cordis. It is common enough amongst athletes that commotio cordis should be suspected if an athlete collapses suddenly after a chest impact and is unresponsive. So what is commotio cordis?
The heart is driven by the movement of electrolytes across the cardiac cell membranes. That movement is controlled in part by electrical signals, in part by pressure differences, and in part by small channels in the cell membranes that open and close, called ion channels. This complex dance can be measured by watching the electrical impulses that are caused by the movement of those electrolytes. That organized movement of charges causes organized muscle contraction, causing the heart to pump blood. It looks like this: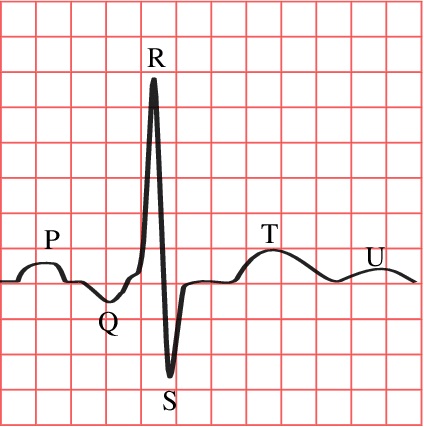 In the above diagram, note that each peak is labeled, and each of the small squares in the horizontal plane represents 40 milliseconds. You will note that the normal cardiac cycle lasts about 360 milliseconds in our example.
An impact to the area of the chest that includes the cardiac silhouette during the 10 to 30 milliseconds before the highest peak of the T wave that causes a pressure wave to wash over the heart, if that pressure wave is between 4.8 and 9.6 psi, can stretch some of those ion channels to the point where some will open when they are not supposed to. (Mostly the K+atp channels) That in turn causes some electrolytes to move, creating random movement of electrical charges. It changes a heart rhythm from the organized one we are all familiar with to the one below:
In order for this to happen, the impact has to occur within a narrow timeframe (20 ms wide out of 360 ms total) and within a narrow pressure range. Too low, and nothing happens, too high and you get a cardiac contusion and tissue damage.
With these rather strict parameters, the phenomenon still manages to happen about 20 times per year in the US, usually with fatal results. It's mechanism is well documented and mostly understood. More than 90 percent of the time, the victims are men. More than 85% of the time, the victims are between the ages of 13 and 20. This is mostly because the vast majority of people who participate in contact sports are males between 13 and 20 years old.
There is a genetic correlation. People with known long QT syndrome in their family history are known to be more susceptible to this- for example, Brugada syndrome. We all have heard of athletes periodically dropping dead during and after practice. It's one of the reasons why high school and college athletic facilities are equipped with AEDs and why some states require that athletes be screened for long QT before they can compete in school sports.
Look, the vax is certainly causing some unexplained deaths. If you want to be convincing, you have to be able to tell the difference between what is a sudden death and what is normal background. You aren't going to convince people if you are sounding like an ill informed moron with a political axe to grind. Think of how the anti-gunners look when they start talking about "shoulder things that go up."
Be informed. Don't come across like a paranoid moron.
Sources for this post:
Athletes and Arrhythmias. Journal of Cardiovascular Electrophysiology. 2010
Commotio Cordis: Ventricular Fibrillation Triggered by Chest Impact–Induced Abnormalities in Repolarization. ADVANCES IN ARRHYTHMIA AND ELECTROPHYSIOLOGY, the American Heart Association. 2012
Fatalities in High School and College Football Players. The American Journal of Sports Medicine. 2013
Incidence of Sudden Cardiac Death in National Collegiate Athletic Association Athletes. Circulation, the American Heart Association, 2011.
Pathophysiology, Prevention, and Treatment of Commotio Cordis. Current Cardiology Reports. 2014
Sudden Cardiac Death in Athletes. Methodist Debakey Cardiovascular Journal. 2016