When you live in the hurricane prone areas of the US, one of the things that you learn quickly is that the Weather Channel's Jim Cantore has an uncanny skill in predicting where a hurricane will make its presence felt, then doing live broadcasts from that spot in the days leading up to the hurricane making landfall. The last thing you ever want to see is Cantore standing in front of a camera in your neighborhood.
It turns out that Jim Cantore is doing his reports from Clearwater Beach tonight. As for me, I usually have a lot of supplies and don't need any. Still…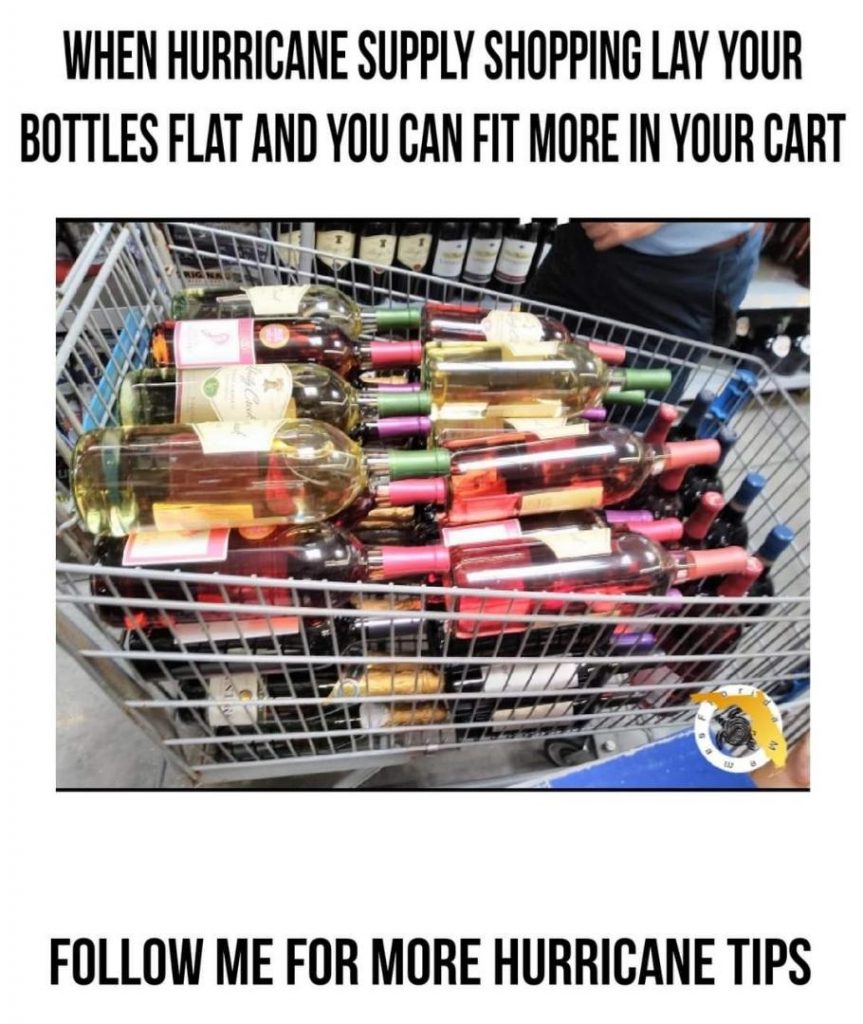 So keep an eye on the hurricane (now a tropical storm) as it approaches. The 1700 report just came out, and the storm has slowed its approach since I last posted. We should have been, based on Friday's reports, been at 48 hours out from storm conditions this evening. Instead, we are now supposedly looking at the center coming in between Cedar Key and Horseshoe Beach sometime on Thursday night as a Major Hurricane upper end of Category 3, or the lower end of Category 4.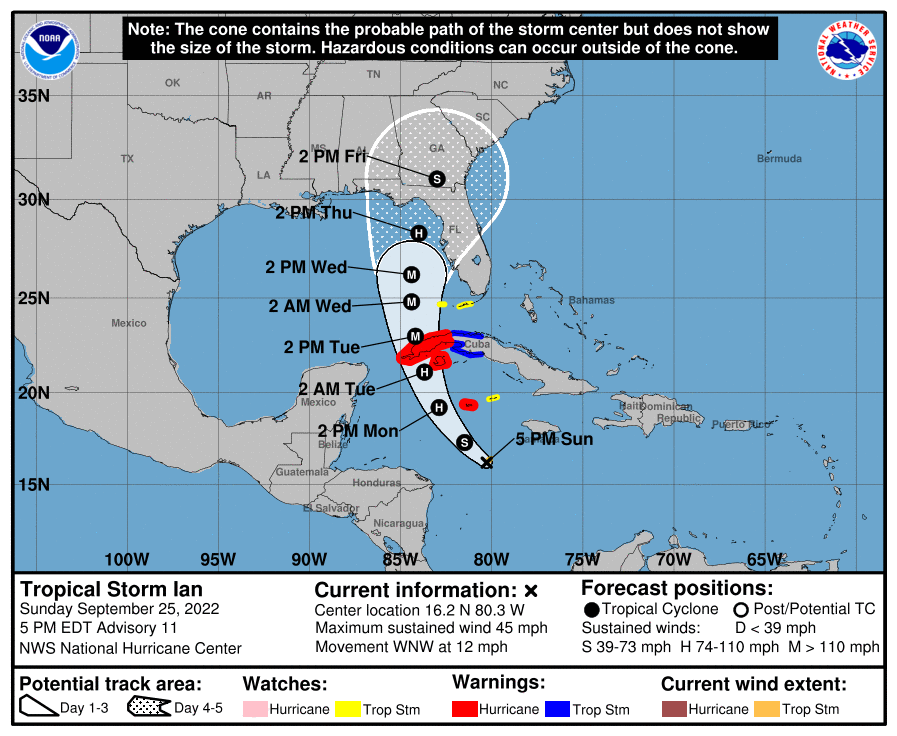 What is significant about this path is that it places northern Central Florida on the east side of the storm, which is the 'dangerous' side. This is the side of the storm where most of the wind field, rain, and tornadoes are found. At any rate, we are in a good spot for avoiding the worst of it, simply because we are dozens of miles from the Gulf of Mexico. That means we will avoid most of the bad parts of the storm, but will still be looking at hours of winds in the 40-60 miles per hour range, as well as rain of a foot or more.
Storm strength is in categories, which is set by wind speed. An increase of one category increases the pressure on your house by a factor of four. The good news is that the area of highest winds is near the center. The bad news is that tropical storm force winds extend out for hundreds of miles, as does the chance of tornadoes, and the large amounts of torrential rain.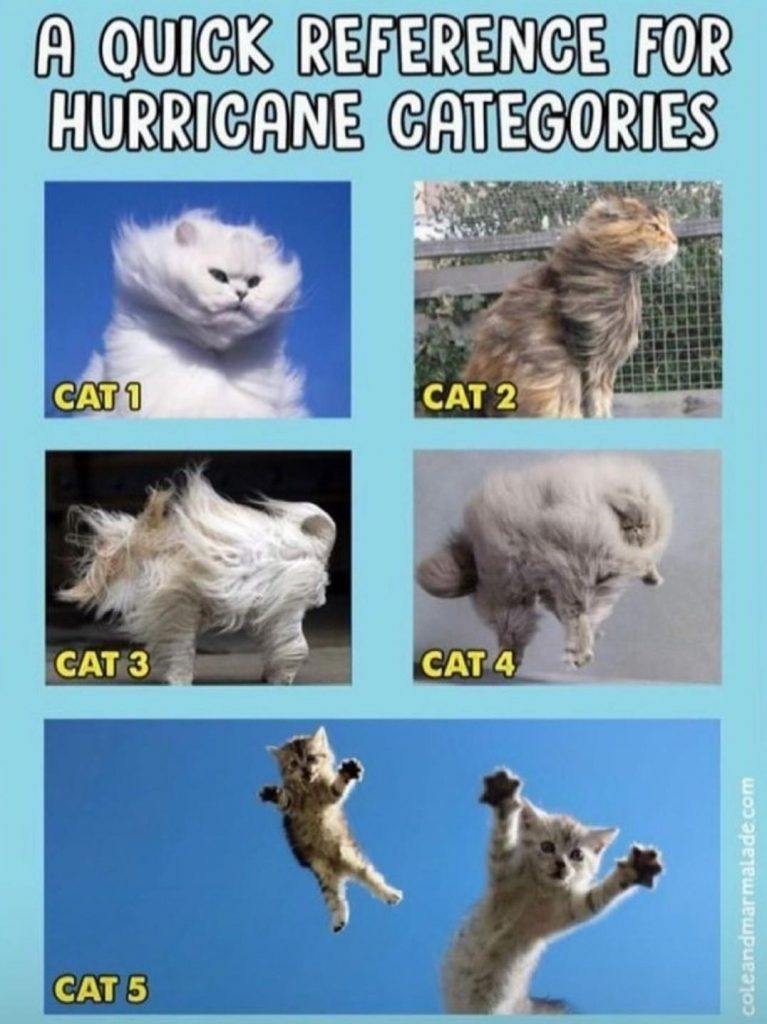 So if you want to evacuate, do so now. If you wait too long, you can find yourself stuck in traffic. If you must evacuate after the rest of the thundering herd has taken to the roads, you might think about wanting to head the opposite way from the rest of them. For example, heading south. That is a mistake, because Florida will institute a plan called "contraflow" where both sides of the highways leading away from evacuation are used to move people in the same direction, making travel in the other direction impossible. I expect Hurricane Watches will go up in the southwestern parts of the state tomorrow, and evacuations will be announced at that time. Once that happens, people will start losing their shit.
Having worked as the shelter medic at multiple shelters during my earlier career days, I will tell you: don't go to a shelter unless you're told to evacuate and have no other options. Shelters aren't fun, and they'll be at capacity. They are packed with dirty, smelly, and sick people that are not pleasant to be around. Many of them are drug addicts. Avoid them unless you have no other choice.
While forecasts at day four or five are a coin toss, the accuracy begins climbing rapidly when we look at the 2-3 day timeframe.
If you are anywhere on the Gulf Coast between Biloxi and Miami, I would recommend keeping an eye on this for at least the next couple of days.