As of this morning, all of the Florida peninsula is within the 5 day cone of a potential major hurricane.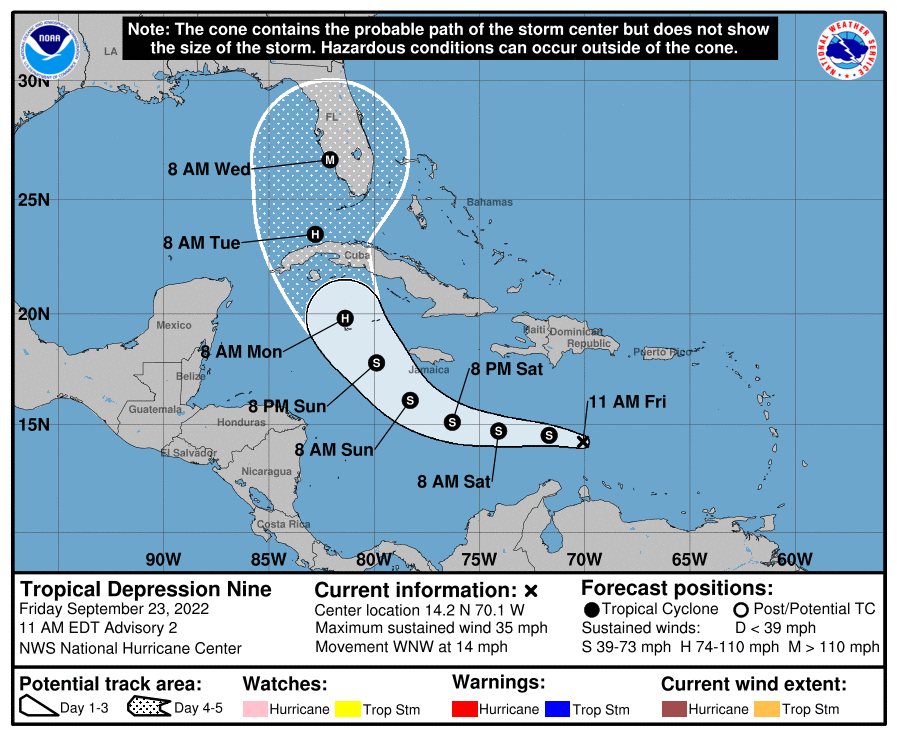 Now if you have been watching these sorts of things for any amount of time, you know that the 5 day predictions of hurricane paths are about as accurate as a coin flip. The hurricane is as likely to hit here as not. However, it is still prudent to keep an eye on things. Even a 40% chance of disaster is worth keeping an eye on.
So I have a well used checklist for hurricanes around here. At 5 days, we do the following:
Retrieve extra fuel and water containers from storage.
Ensure that there is a good supply of batteries.
Check the yard for loose debris.
Since you can't run a genny during a hurricane, you need chemsticks for light when the power is out. Safer than candles and more reliable and useful for general light than flashlights, you can get them for less than a buck apiece. Make sure you have plenty.
Watch the storm updates as they come out every 6 hours: at 0500, 1100, 1700, and 2300.
It's important to remember that the predictions of the hurricane folks are for the center of the hurricane. Tropical storm force winds are located far from this point. For example, in the case of Hurricane Fiona, the latest forecast shows 35 knot (40 mph) winds extending 290 miles to the northeast and 350 miles to the southwest of the center. Since the storm is moving at 35 miles per hour, damaging 40 mile per hour winds can be expected to begin 10 or 12 hours before the center arrives. If the above prediction cone is correct, we can expect the onset of heavy winds to begin on Tuesday night, sometime around sunset.
What this means to those of us in Florida is that the five day cone is really a 4 day warning of storm conditions. That means my three day checklist would have to begin tomorrow evening, except I am working tomorrow. That means I will have my wife get some of it done.
The pre-event checklist will need to be complete by Tuesday Morning. We haven't had to prep for a hurricane since Labor day weekend 2019, and that one was a bust. The last storm we had here was Hurricane Irma in 2017, and we were without power for about 4 days.