Here is an article from CNBC that is an attempt to make the reader feel sorry for people who made bad choices. The article focuses on how people with large student loan balances should have the loans forgiven.
The story starts by introducing us to Sanders Fabares. Here is what the article had to say:
Even after years of paying $1,000 a month toward his student loans and his wife's, their balance hadn't decreased by much. They still owed around $80,000, down from the $90,000 they'd originally borrowed.
"I started trying to understand what we were doing wrong," Fabares, 41, said.
His research quickly moved away from his own loan statements and to the larger student debt system. The Lakeside, California, resident read about the millions of borrowers in default, and how many people's monthly payments were only going to the interest on their debt, meaning their balances weren't dropping either.
At $1,000 a month, I knew that the loan had to be quite large. I took out a $12,000 student loan for my Master's degree, and the payment was less than $100 a month. So I decided to do some digging. Here is what I found (pdf alert).
It turns out that he and his wife attended a private arts college and were taking classes in photography and drawing. They racked up $96,000 in debt before graduating in 2006. After 13 years of paying the minimum payments, they had paid down a third of their debt before deciding to quit.
In other words, he chose an expensive education in a field that doesn't pay enough to cover the cost of his degree, and didn't know how loans and compound interest work. His solution to this was to join a group that refuses to pay their loans while demanding that the Government do so.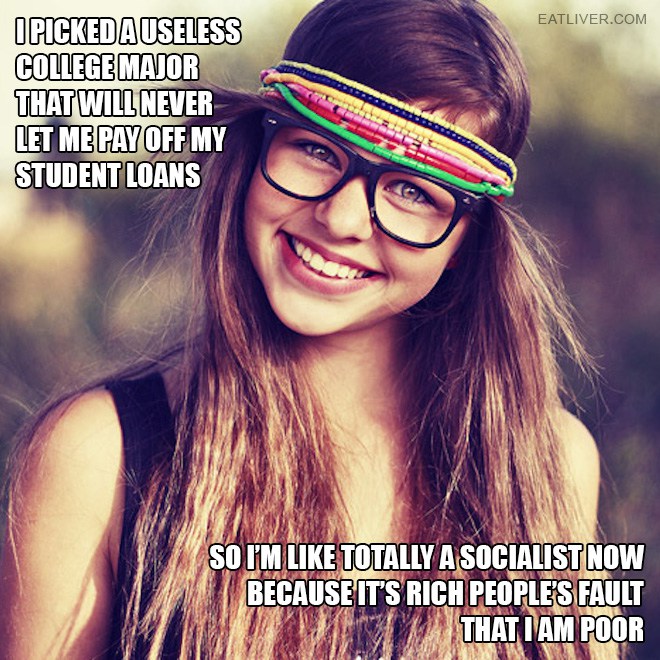 After quotes from one of the communist founders of "The Debt Collective," the CNBC article moves on to the story of Jenny Lezan, who ended up attending Benedictine University and the Art Institute of Illinois. There, she racked up $170,000 earning a degree in art, so she could secure a job paying $28,000 a year. Here is a link to her freelancing webpage. She blames her bad luck on racism and sexism:
A well-paying job has been hard to find. Last year, working as an adjunct professor and freelancer, she made $28,000. "Being Hispanic and a woman, I'm up against additional obstacles," she said.
Sorry, but a $170k degree in a field that only pays $28k a year is just a bad choice. You should have either not gone to school, or picked a major where you can actually make money. You could make a little extra if you did some Internet porn for onlyFans, maybe.
Then the CNBC article moves on to Rebekah Valorn, a woman from Salem, Oregon who ran up over $200,000 in student loans getting a law degree. A law degree is certainly a great choice of major, so what happened? Her mother got sick, and Rebekah never took the Bar exam. She was working for the state of Nevada, where she was making about $19,000 a year, when she declared Chapter 7 Bankruptcy in 2019. Why Bankruptcy? To get rid of her $20,000 or more in credit card debt, but still owes on her student loans. Sad story, but I don't see how that is anyone's fault but your own.
My Dad died while I was in college. I made due. Life happens. That doesn't make it anyone else's fault. Who does she blame for this? The school:
"It's been transformative being in this group and knowing we don't have anything to be ashamed of," Valorn said. "An education shouldn't cost a quarter of a million dollars."
You took out a loan for an education that would pay you millions of dollars. It was a great choice. The only problem was that the bet you made was in a person with no follow through, a person who couldn't overcome adversity and just gave up when things got challenging, so you lost the bet.
That doesn't make it society's fault, nor should that mean that the rest of us should pay for it.