Thanks to a record increase in homicides that began with last summer's rioting peaceful protests, the US has seen the highest increase in homicide rates in modern history. Cities like Portland, Indianapolis, Louisville, and Philadelphia have seen record numbers of homicides.
The rate of homicides is up by 30% from 2019 levels as the US homicide rate increased from about six per 100,000 in 2019 to 7.8 per 100,000 in 2020. The FBI's Uniform Crime Report recorded 21,570 murders total in 2020, compared with 16,425 murders in 2019.
Rifles and shotguns combined accounted for the same number of homicides as did fists and feet: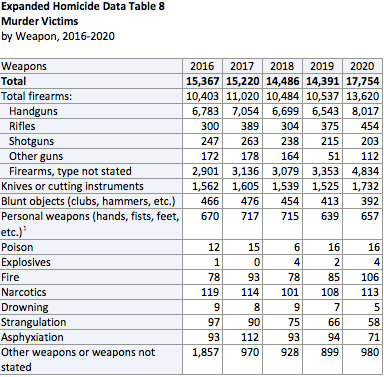 Even with all of that, the U.S. murder rate in 2020 was 42% lower than the suicide rate (13.5 deaths per 100,000 people) and 71% below the mortality rate for drug overdose (27.1 deaths per 100,000 people, as of the third quarter of 2020).
All of this is actually causing a backlash to the BLM/Antifa narrative. In a Pew Center survey conducted in September, 47% of U.S. adults said they favored an increase in funding for police in their area, up from 31% in June of 2020. Support for reducing local police funding declined from 25% to 15%.
Remember that one of the things an insurgency must do, according to the CIA insurgency manual, is destroy the people's trust in the government. This causes the people to cry out for protection from anyone who promises to provide it. Then the communists step in and fix everything.