He isn't totally wrong here. There ARE numerous well trained, retired, and active duty military with stockpiles of unregulated 3D printed firearms. Veterans and non-veterans, too. I don't think the Nazism part is correct, but what is a leftist without an accusation of their opponents being NAZIs? Still, many of those in these circles ARE well connected, and they ARE arming and preparing for a civil war. Maybe he should reflect on that. He goes on: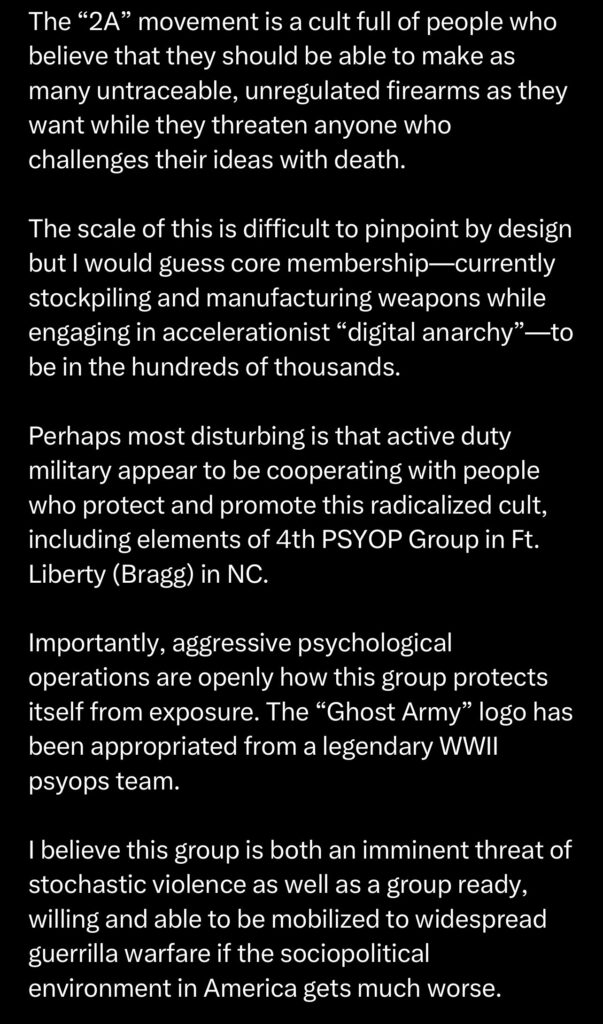 Yep, the 2A movement IS filled with people who believe that they should be able to make as many untraceable, unregulated firearms as we want. At least you've been paying attention. Have we threatened those who oppose us with death? Yep, but that is only because those on his side of the aisle keep saying things like this:
You claim that it is by design that the size of the 2A movement is difficult to pinpoint. What SHOULD keep you up at night is this: it isn't by design. The 2A movement isn't designed, it isn't Astroturf- the movement is organically difficult to pin down because it ISN'T designed or centrally planned. The core membership, designing, building, and stockpiling weapons, is currently in the millions. Perhaps tens of millions. We are engaged in what you call "digital anarchy," but the rest of us know that as "free speech."
Yes, there are segments of the same military that you despise while expecting them to kill for you that support the 2A movement. Most of all, we ARE a group that is imminently capable and willing to carry out stochastic violence that is ready, willing, and able to mobilize and carry out guerilla warfare if the situation in this country gets much worse.
Glad to see that you've been paying attention. Perhaps your kind should think about this before making things much worse.