A recent comment went like this:
3″ with 00 buck has 15 pieces of ,30 cal pellets. Unless said ner do well is right on top of you, figure at least 4-5 pieces will miss the target.
That isn't how shotguns work. Consider the picture below: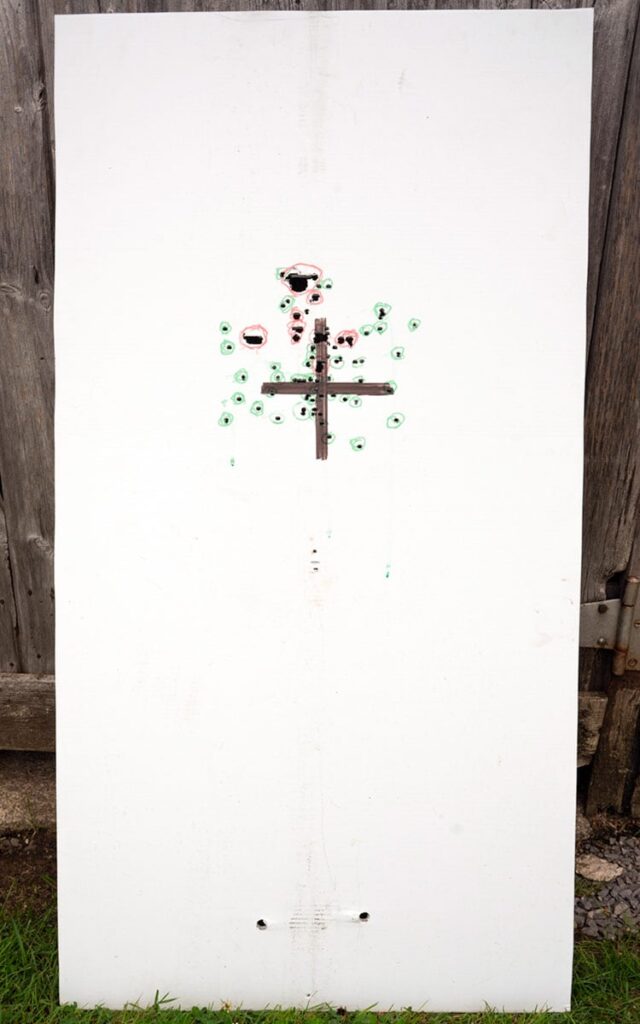 Contrary to popular press, shotguns are not "street sweepers" and yes, you have to aim them. As you can see in the picture, every pellet hits within a 7 inch circle at 20 feet. It isn't that you can't miss with a shotgun, or that the shot spreads out at household distances.
It's true that at longer ranges with lighter pellets that the pattern is wide- that's why they are great for shooting fowl. The pattern on a cylinder bore shotgun with lightweight shot like BB is wide, and makes striking a small moving target easier than a single projectile. Again- see the above photo. Small pellets disperse faster, while larger pellets tend not to spread out as quickly.
The fact that heavy shot doesn't spread much at short distances is what makes a shotgun such a great house defense gun- at the ranges typically found inside of a home, every shotshell sees the target getting hit with an ounce or more of fast moving lead. A 3 inch 12 gauge of 00 buck has a shot mass of about 500 grains, and it leaves the muzzle at about 1300 feet per second. That works out to 2700 foot pounds of energy. That's roughly equivalent to being hit by 4 JHPs from a .357 magnum. Simultaneously.
Nothing zeros out an attacker's blood pressure like a 7 inch wide wound channel through the middle of their chest cavity. There is a lot of important stuff within 4 inches of the center of a person's chest, and poking 15 holes in that area means a high probability of multiple hits to important things like great vessels and ventricles of the heart.
At ranges from 6 to 20 feet, there aren't many weapons that hit as hard as a 12 gauge. My 870 Wingmaster has a cylinder bore and can hold 7 two and three quarter inch shells. I also have a Chiappa nickel plated 12 gauge with a 3 inch chamber. It holds 5 of the hard hitting 3 inch shells. That's a lot of serious self defense power that will put a hurting on even a drugged up intruder.
As an added bonus, it doesn't look as scary as an AR and doesn't come with the "evil looking black gun" label attached to it. If it ever is shown to a jury, they won't get the "scary looking" image that an AR or a tactical shotgun will have.