Perhaps it's because I am newly unemployed, or maybe not. However, today is a bit of a black pill day for me.
Reader BobF is angry that his money is gone. They took money from him for decades, and now there won't be any left to pay the Social Security and the Pension that he was promised. I agree, it's perfectly acceptable to be angry about that. Heck, when I first was told (by someone commenting on this very blog) that my pension was simply a way for public employees to screw the employers that had to pay them, I was pissed. I spent decades, working for less money than I could have gotten elsewhere, risking my life to EARN that pension.
The money is gone. They spent it. Like a dad who is angry because when you sent your kid off to college, you gave him your credit cards to use in the event of an emergency, and he maxed them all out on unnecessary bullshit, it's our fault for giving them essentially unmonitored access to the credit cards. Yep, I said it- it is our fault for not watching what they were spending the money on. So now we have $200,000 in maxed out credit cards, and nothing to show for it. Except in this case, it's $35 trillion worth of useless treasury notes, and a bunch of promises.
So yeah, everyone is getting screwed. Take a moment to let that sink in. Now feel the anger? You pissed off? Well, so was I, when I first began to realize just how fucked we are.
The time to complain about that was when the Congress spent DECADES throwing money around like a Frat boy with his dad's credit cards. And yes, it was spent on bullshit.
$190,000 by Senator Charles Schumer (D-N.Y.) for digitization of the New York Historical Society's photo collection.
$200,000 by Rep. Howard Berman (D-Calif.) for the Providence Holy Cross Foundation tattoo removal violence prevention program in Mission Hills.
More than $220 million to build a bridge between Gravina Island, an island that was home to 50 residents at the time, and the Ketchikan Airport.
Don't think that the holy grail of the Republicans, the defense budget, was immune from this waste. Rep. Duke Cunningham (R-Ca.) resigned and pleaded guilty to accepting $2.4 million in kickbacks from military contractors for steering billions of dollars worth of defense budget dollars their way, using his positions on the Defense Appropriations subcommittee and the Intelligence Committee to insert earmarks for military spending.
$500,000 in federal funding for the construction of a very unique museum in Sparta—a town that had a population of about 18,000—the Sparta Teapot Museum of Craft and Design.
$14.8 billion to Boston for a tunnel (The Big Dig) that was the most expensive highway project in history.
$3.4 million for a tunnel in Florida that would allow turtles to cross Highway 27 safely.
Decades of wasteful project after wasteful project, adding up to hundreds of trillions of dollars in spending. Every single President since Eisenhower has been a part of it. Who is blame? We are. We let them do it. Let the anger soak through you, then take a deep breath. Let it out. I agree with you. It sucks.
The money is gone. There is no way that it will ever be paid back. We owe more money than physically exists. That right- add up all of the money in the world: Dollars, Euros, Yen, Yuan, all of it. Now send it all in. That doesn't even pay what the US owes, much less the debt of all of the other nations in the world. Now you begin to see just how fucked we all are. Yes, I am using the word "fucked" even though profanity is not used here very often. Why? Because no other word really begins to describe just how bad things really are.
There is no way out of this. The bill is going to come due, and we are the ones who will be stuck with it. That pension you are owed? Gone. The Social Security fund that took from you a third of every dollar that you earned for your entire working life? It's been spent. I've been warning you about this since I figured it out, back in 2007.
Again, the time for us to have fixed this passed some time ago. I became an adult during the Reagan administration. It was probably already too late at that point. My generation inherited the problem, but we certainly didn't even try to fix it. So yeah, I blame the Boomers (and my own parents, who were part of the silent generation) for creating the problem, but the generations since then certainly didn't try to fix anything. That makes all of us responsible.
Lacta alea est. It's too late to cry over spilt milk. You can be mad, but that is like the old man yelling at clouds: it doesn't change anything.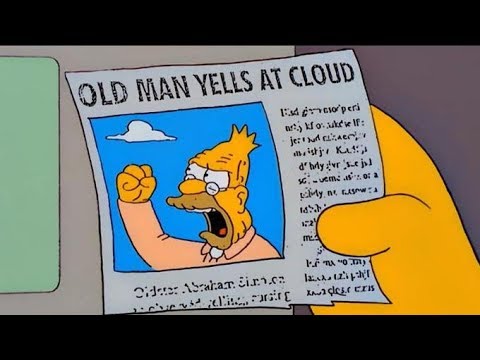 All we can do now is try and save what we can, and in my opinion, all we can do is try and save our local area. Be ready, band together with as many like minded neighbors as you can, and try to weather the storm. Sauve qui peut.
Get skills. Stockpile tools, gear, food. Learn to garden. Plan. Make friends with neighbors who have complimentary skills. Stockpile stuff that you can trade to people with skills who may compliment your own. For example, extra guns for neighbors who may not have one. They can use it to stand watch while you sleep, or cover your backside.
It's coming. We don't know when, but at this point, it's undeniable.