Most people think that you join the military for a term of 2, 3, or 4 years. What people who haven't served in the US military usually don't know is that everyone really signs up for 8 years. What people think of as their 2, 3, or 4 year 'hitch' is merely the active duty part of their contract. You can begin serving that active duty part of it immediately, or you can wait up to 12 months to report. That's in your contract as well. When you are done with that active duty commitment, what happens to the time that is left?
The military owns your ass for it, that's what. If they want you to come back, you come back. That is exactly what is happening to 450 unlucky people this month as Biden issues orders to call up 3,000 reservists, up to 450 of whom can be people who recently thought they were done. Where are they headed, you ask?
Europe, to join the other 100,000 troops already there. Gotta be ready for Biden's big war in Ukraine. They are going to use the catchy name from 2014- Operation Atlantic Resolve. Can't kill thousands of people in a military adventure without a catchy name.
Biden's boys are careful to mention that the troops aren't going to the Ukraine. Nope, they are joining the 2nd Armored Brigade Combat Team. The base that the brigade is operating from is called Camp Herkus:
I'm sure that you won't be surprised to find out that this camp is in Pabrade, Lithuania. Now Pabrade is just 3.5 miles from Lithuania's border with Belarus. That also places them less than 400 miles west of the suburbs of Moscow, and 110 miles from the eastern end of Kaliningrad Oblast, Russia. The red pin is where the Brigade is based: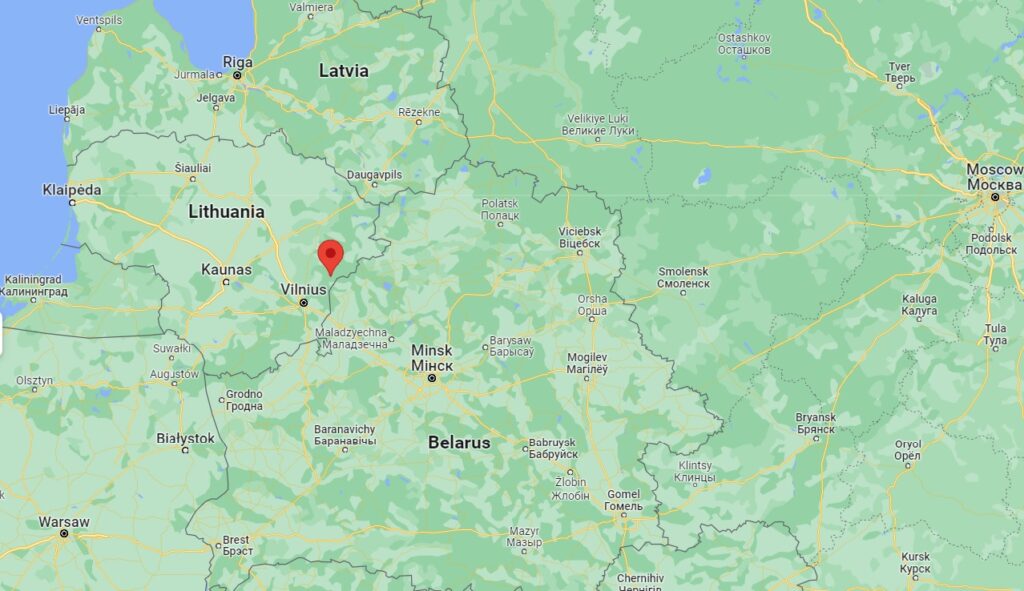 When you find out that the US opened the base in August of 2021, then remember that the US started moving troops into Europe at about the same time, and you can begin to understand why the Russians finally decided to get pissed off and invade Ukraine six months later. How would Americans react if the Russians decided to place an armored brigade 100 miles from the Canadian border? Perhaps Putin isn't the dictatorial asshole he is being painted as?
Consider that an Armored Brigade Combat Team is what used to be called a heavy armored brigade. The armored brigade combat team (ABCT) is the army's primary armored force, and is the largest brigade combat team formation with 4,743 soldiers. An ABCT includes 87 Abrams, 152 Bradley IFVs, 18 M109s and 45 armed M113 vehicles. It is a formidable unit, and carries a lot of firepower, all of it on the northern border with Belarus.
On the western border with Belarus is Poland. What's there, you ask? The US First Army, with the potent V Corps has its headquarters there.
As a part of the enhanced Forward Presence (eFP), four NATO multinational battalion battlegroups are stationed in Poland, Estonia, Lithuania and Latvia. On the eve of the summit, NATO Secretary General Jens Stoltenberg, in addition to expanding the high readiness force with 40,000. up to 300 thousand soldiers announced to increase the potential of the battle groups to the level of brigades.
Last month, Poland began moving elements of its 12th and 17th Mechanized Brigades to its eastern border with Belarus. These are the same brigades that were just upgraded to the Abrams.
With tens of thousands of NATO troops massing on the border, it makes sense that the Russians are putting tactical nukes in Belarus.
Biden is pushing for a war with Russia, and Russia will have little choice but to use nuclear weapons in the face of division sized armored forces pushing towards his capitol city. If the US does the stupid thing, there is little chance of avoiding the use of at least a few tactical nukes.
I am old enough to remember when the Democrats were opposed to nuclear war.